Sr. Argene Gamez knew that if she was being sent from her home in Colombia to serve Spanish-speaking people in the United States, there must be a need.
But the Missionary Servants of the Divine Spirit sister had no idea how much she was needed or how well she could help fill that need. In southwestern Michigan communities, she and her fellow sisters have started Bible studies, held retreats, and gotten new volunteers to teach Catechism, serve as lectors and participate in choir. Local parishioners are deeply grateful.
"It's just a miracle the way God put us here to help the priests and the people," Gamez said through a translator. "When we go visit people, they find comfort when we're there. There's not enough priests and they are very busy, so God has brought us here."
God had some help: Gamez and three other Colombian sisters from her order are part of a program of Catholic Extension, a fundraising organization for resource-poor dioceses in the United States. Those 35 sisters, however, represent just a tiny fraction of the thousands of international women religious now in the country.
Many foreign-born sisters are members of international orders, either based in the United States or elsewhere, and are brought here for education or leadership training. Those sisters generally have established support systems while they're here through their congregations.
But other international sisters are sent to the U.S. as missionaries and may have to figure out on their own how to find housing, health care and income, not to mention how to live in American society. Still others are invited by American bishops to serve in their dioceses; sometimes those sisters may be provided for when they first arrive, but then are left on their own under a new bishop or other changes.
Nobody knows how many sisters are here from other countries or what percentage are here for which reason.
"We have no clue. There's not even an estimate — it's never been studied," said Mary Gautier, a researcher at the Center for Applied Research in the Apostolate (CARA) and a co-author of New Generations of Catholic Sisters: The Challenge of Diversity. "There's a few anecdotes, and all kinds of rumors out there, but there's never been a study."
Until now: Gautier, along with New Generations co-authors Sr. Mary Johnson, a Sister of Notre Dame de Namur from Trinity Washington University, and Sr. Patricia Wittberg, a Sister of Charity, are conducting a study of international sisters in the United States. They have already found more than 3,500, a number Gautier said is likely "just the tip of the iceberg." The Trinity Washington University/CARA study is being paid for by the GHR Foundation.
"In the beginning, all sisters here were international sisters, of course," Gautier said. "We're trying to provide a baseline for what the contemporary picture looks like. Not only the manner and scope of their presence, but the contributions these international sisters are bringing to the United States, as well as the challenges they face."
Intensive training
The Catholic Extension program gave 35 women religious from Latin America intensive training at Mexican American Catholic College in San Antonio, Texas, to prepare them for the cultural differences they face working in the United States. Gamez, Sr. Dora Elena Orozco, Sr. Maryud Cortes and Sr. Julyanna Rua were assigned to the diocese of Kalamazoo, Michigan, one of 10 dioceses selected for the five-year program, which began in 2014. They serve San Felipe de Jesus parish in Fennville and Immaculate Conception parish in Hartford.
San Felipe parishioner Melinda Gracia said before the sisters' arrival, church was simply an hour of Mass once a week. Now it is a central part of the Spanish-speaking community in southwest Michigan, which has been a great comfort to a region beset by poverty. The area, two hours northeast of Chicago and just inland from Lake Michigan, is marked by blueberry fields and apple orchards, which provide low-wage seasonal jobs. The parish also serves the migrant workers who live in a camp farther south.
The sisters organized groups of volunteers to take turns cooking a meal to serve after Mass, which has drawn the parish closer together. People are joining the Knights of Columbus now, and they've started a children's choir, guitar classes and classes on married and family life.
"Our church has gotten more united. Before, nobody was communicating. Now, you feel like a family," Gracia said. "Before, we never filled up the church. Now, there's nowhere to sit. People are standing."
How did four smiling sisters in brown habits spur such a change?
Gamez said there simply aren't enough Spanish-speaking priests, and they are stretched thin and don't have the time for the everyday tasks that can make a parish vibrant. The sisters visit the sick and pray the rosary. They are present for people whose daily lives are a struggle.
The sisters in the extension program are part of a much larger group. While the Trinity Washington University/CARA study is still underway, an estimate by the then-director of cultural diversity for the U.S. Conference of Catholic Bishops put the number of sisters in the U.S. at up to 4,000 from Latin America alone.
Why are sisters coming to the United States to minister, especially when so many of them are coming from developing nations that would seem to have more pressing needs?
That's what the study of foreign-born sisters is aimed at finding out, said Kathleen Mahoney, senior program officer for global development at the GHR Foundation.
"Things are changing, both for the Global North and the Global South. How does that change affect religious life itself? How does the U.S. receiving so many missionaries change things?" Mahoney said. "We're used to sending missionaries out, now we're on the receiving end."
Handmaids of the Holy Child Jesus Sr. Regina Ozuzu said many people wonder why there are missionaries coming from Nigeria to the United States.
"The perception was, 'We are so self-sufficient, we don't need any others, so why are you here?'" Ozuzu said. "But the universal church works in a different way. Wherever you have people, there is a need. Whether you're a superpower or third-world country, there is need."
Ozuzu, principal at Bishop Larkin Catholic School in Port Richey, Florida, said diversity is not just a nice goal, but crucial for the church.
"Always, there are people who bring different talents than you have," Ozuzu said. "You bring a different kind of spirit to the world which helps people understand our God."
Diocese invitation
For Daughters of Mary Mother of Mercy Sr. Patricia Ogbonna, it was an invitation that brought her from the congregation based in Nigeria to the U.S.
Ogbonna said the Vicar of Religious for the Miami archdiocese visited the Daughters of Mary in Nigeria 15 years ago and invited them to work in Miami diocesan health agencies.
"When we first came in, they provided us with health insurance, housing and transportation and stipends," she said. "However, when some of our sisters began coming in without the invitation of the diocese, they had to find their own accommodation and housing. So we have to find a way to cover those costs. The diocese now requires nuns to [find] their own housing and insurance and everything, and they just provide the stipend to pay for them. It is difficult, but what can we do?"
Now in Indianapolis with about a dozen other DMMM sisters, Ogbonna is an accountant for non-profit agencies; her wages help support the work of the other DMMM sisters here. About a dozen others still work for the Miami archdiocese.
Though the DMMM are an international order, Ogbonna said she received no training before coming to the United States to prepare her for the culture shock.
"I believe that now, whenever they invite someone from Nigeria, they first have to live in a regional house for some time before they get assigned so they can learn how to live here," Ogbonna said. "But the nuns may not give the training very well — they're telling you, 'This is how it is,' but you haven't experienced it. It is really difficult to get our sisters to understand that it's a totally different culture and society."
Arturo Chavez, president of Mexican American Catholic College in San Antonio, Texas, said that experience is not uncommon. Mexican American Catholic College offers a bilingual, multicultural formation program and the Sisters' Intercultural Studies Program, a 12-week, language and cultural immersion program designed for recently arrived sisters who will minister in the United States.
The sisters in the Catholic Extension program trained at Mexican American Catholic College; the program was paid for by a $3 million grant from the Conrad N. Hilton Foundation, which also funds Global Sisters Report.
"There are some real, practical issues for sisters coming here, so we take them on little field trips — for some, being in a Walmart is a new experience. Being bombarded with choices, using a credit card, getting gas, managing their own expenses, keeping receipts. Things like that might be very foreign to these sisters," Chavez said.
"Other things are not so little, like teaching them about safe environments — what should we be aware of in terms of compromising situations we might put ourselves in?" he said. "Here in the U.S., we have to be very explicit with them about that because that is different in their culture."
Sister studies
Presentation of the Blessed Virgin Mary Sr. Joyce Meyer has been studying international sisters in the United States since before 2013, arising from her work then as executive director of the Conrad N. Hilton Fund for Sisters. Meyer is on the board of the Conrad N. Hilton Foundation and is the international liaison to women religious for Global Sisters Report. It was Meyer's preliminary work for the Leadership Conference of Women Religious that showed the need for the more complete study now taking place.
"I became aware that more and more congregations from the Global South were sending sisters to the United States, but they were virtually invisible in the religious life of the U.S.," she said. "But they were also beginning to influence the future of religious life in the U.S., and I thought it was important for LCWR to be aware of it. We are all sisters in the church and need to know who we are together here and globally."
That togetherness, however, is lacking for many international sisters, Meyer found.
"Many do not belong to any formal organization that gives them identity," she said. "They work in parishes or other forms of employment and may be known only at that level. . . . At times they are quite isolated."
Meyer sent surveys to the communities she could find through diocesan offices of vicars for religious, and of the 22 that responded, nearly half cited education as an issue, and more than one-third cited health care. Other issues included living conditions and even sisters who had disappeared into American society and could no longer be found.
"Once they're here, they may start out fine but then run into all kinds of issues, and they're often left on their own to figure it all out — money is not as available as they thought, their superiors cannot afford to visit them, the list goes on and on," Meyer said.
Spiritual views
The differences international sisters face here are more than just cultural: They can be spiritual, as well.
Chavez, the Mexican American Catholic College president, said most of the international sisters his college trains come from "very high context" cultures, which are much more communal, ordered and hierarchical than that of the United States.
"Look at how we look at superiors in the United States: All of us are equal, but this sister happens to be elected leader this year, poor lady. But she's no different than I am," Chavez said. "So you're going to challenge them when you don't agree with something. But for many sisters coming from these high-context countries, they see superiors not as their equal, but as a person that has been chosen by God to lead. They view them in a very different way. The way we're taught to treat teachers and elders is very different."
That can make obedience not just a virtue, but disobedience a sin.
"Spirituality is a function of culture — you can't separate that," Chavez said. "So not speaking up when you disagree may have spiritual connotations — there is a spiritual side to putting up with this."
And one of the things international sisters may have to put up with is prejudice. Meyer said some international sisters working in the United States, especially those from Africa, are often given only menial tasks or treated as cheap labor because of assumptions about education and ability.
Daughters of Divine Love Sr. Mary Paul Asoegwu said she doesn't look upon the prejudice she and her Nigerian-born sisters have faced as racism, but as the natural reaction anyone has when meeting someone unfamiliar. Her community works in Chicago-area schools; Asoegwu now works in development. She said she stood out in the all-white schools in suburban areas.
"When I come to your land, it is true that sometimes, for the teachers or the students, I was the only black in the class. There are people who want to know more about you — they haven't seen someone like me before," she said. "If you go to Africa and all you see are blacks, and then you see a Caucasian, you would say, 'Who are you? What are you doing here?' It's natural."
But getting to know people and proving her abilities — she now holds a doctorate — has made all the difference, she said.
"People who have gone to Africa have changed their hearts and their minds. People who have met Africans know it's not all jungle," Asoegwu said. "And it goes both ways: Before I came to the United States, one of the things I heard is that I should not go there. 'You will not be able to practice your religion anymore. If you go to Chicago they will shoot you!' But I'm still a Catholic, I still have my habit, and I've never been shot at."
The habits many international sisters wear, however, can bring a different kind of prejudice — against U.S. sisters.
"Even within the United States there are clashes of culture, clashes of what it means to be a sister," Chavez said. "When you have American and international sisters in the same parish, I've heard people say, 'These are the real sisters because they wear habits and live in a convent.'"
Gautier said the Trinity Washington University/CARA study — which will eventually become a book — will show what a blessing international sisters are.
"I didn't anticipate there would be so many here and that there would be such wonderful diversity," she said. "It really is a wonderful gift to the church and us."
[Dan Stockman is national correspondent for Global Sisters Report. Follow him on Twitter @DanStockman or on Facebook.]
Editor's Note: This story has been updated to correct the name of the study of international sisters in the U.S.  to reflect the involvement of Trinity Washington University. It is the Trinity Washington University/CARA study. 
Images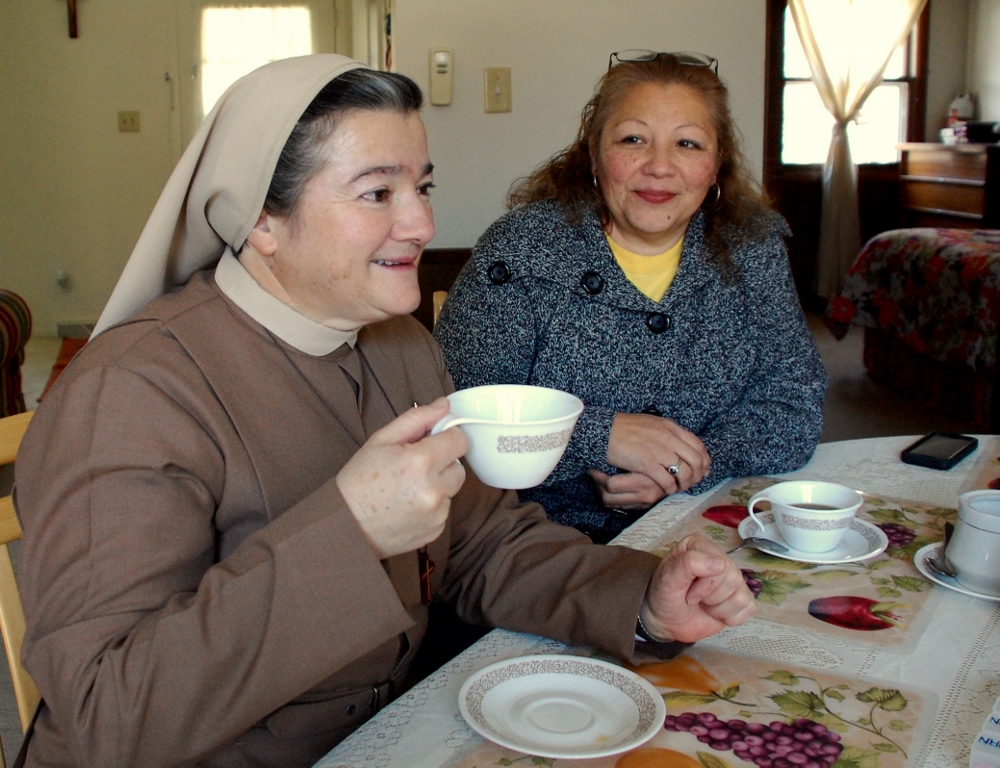 Missionary Servants of the Divine Spirit Sr. Dora Elena Orozco and local parishioner Melinda Gracia share a cup of coffee in the convent that serves the San Felipe de Jesus parish in Fennville, Michigan, in this 2016 file photo. Orozco was sent from her home in Colombia to serve Spanish-speaking people in the United States. (GSR photo/Dan Stockman)