When independent filmmaker and artist Abbie Reese inaugurated her collaboration with the Clare Colettine nuns at the Corpus Christi Monastery in Rockford, Illinois, she had a professional goal: nurturing a collaborative relationship that would serve as a backdrop to a young woman's transition from secular life into an alternative community.
Ten years down the road, Reese admits that the time she has spent with the nuns, who practice a form of strict enclosure relatively rare in contemporary culture, has had an effect on her that goes well beyond scholarly objectivity and curiosity.
A relationship that began a decade ago as a planned magazine article has, over time, evolved into a project she described as both broader and more profound. Reese was fresh off a yearlong volunteer stint as a communications director for a huge hospital ship, another form of enclosed community, when she began her oral history collaboration with the nuns, whom she first approached in 2005.
In the introduction to her 2014 book, Dedicated to God: An Oral History of Cloistered Nuns, Reese writes that the call to leave the secular world and embrace a cloistered existence (these nuns rarely leave the monastery) was, for many, quite unexpected. "It defied their God-given temperaments. It violated dreams. It dashed plans for marriage and children. It meant their world would shrink, temporally, to a fourteen-acre campus, so that their minds could dwell on God."
As her relationships with the nuns deepened, they began to open up, not only the physical space they inhabited, but their own vocational stories. "Looking back, I think they wanted to see if I could respect their faith and honor their tradition while within their space," she said.
While at first she would dress in the street clothes she normally wore, eventually she found herself dressing with deliberate modesty. "They only see the hands and faces of other [women], so to see more skin on somebody else is quite distracting . . . I would not wear make-up, and would take off my dangly earrings before going in."
She makes it clear that the nuns didn't impose their expectations on her. Nor did her growing knowledge of monastery life impel her to discover a hitherto unknown call, she added. "A number of men asked me if I was doing the project because I wanted to become a nun. Of course not. No women would do this kind of project because she wanted to become a nun. That's not how you go about it. "
"It's clear your calling is to tell stories," one of the nuns told her.
Given that the nuns only speak to each other when strictly necessary, even the act of interviewing one of them was eye-opening, said Reese. "Sr. Nicolette [a pseudonym], who was really worldly before she entered, fluent in four languages and grew up in Europe, would get hoarse in half an hour. It takes an emotional toll to communicate like that. She was so deliberate in the words she chose, so thoughtful and contemplative."
"I experienced the monastic pace through them. It is incredibly compelling," said Reese, adding that while she spent nights in the guest quarters and visited the enclosure on occasion as the project evolved, she never spent a night inside the nun's residence.
In her book, Reese describes the way nuns order their days, a rhythm that moves between manual labor and prayer with a particular and sustained focus on veneration of the sacrament. A few are deputized to answer the phone, a link to the personal and global sorrows and crises outside their walls.
When they aren't gathered for the Divine Office seven times a day (including at midnight) or engaged in private prayer, the nuns can be found in the garden, baking altar breads to be packaged and mailed off to different congregations, or fixing furniture in their workshop. Though they depend chiefly on donations to run their household, they also have a gift shop in which they sell hand-sewn Communion veils as well as cards and rosaries.
As do other cloistered communities, the nuns at Corpus Christi seem to have great confidence in the efficacy of their calling: healing the world through the power of intercessory prayer.
"They intervene in the course of history, believing that their prayers and penances for strangers and family can alter outcomes," writes Reese. "At the ceremony when a nun makes final, permanent vows, she hugs her family for one final time. This sacrifice serves a purpose: The material world is not the end, and their sufferings and martyrdoms allow God's will to become manifest in the world."
These final hugs happen six years after a sister enters as a postulant. "It's a really emotional ceremony," said Reese. "Their mothers don't want to let go."
Thereafter, nuns will only see their families seated behind a grille, and they are only allowed four visits per year. Some of the older nuns told her, Reese said, that after they departed for the monastery, their mothers would continue to set a place at the dinner table for them: "The separation was so extreme that it was like a death."
Nonetheless, she said, the community continues to attract vocations. At the moment, there are approximately 22 nuns here, some of whom had transferred from active orders. One, she said, had served in the military.
Like other religious communities, these Corpus Christi nuns, a Franciscan order (Clare was a friend and follower of St. Francis), have pets. Though the nuns told Reese that the dogs are there to protect them, "God sent them a cat. They found it in the dumpster one day."
"People keep asking me why I spent 10 years on the project" said Reese, a non-Catholic raised by two veterans of the 1960s' Jesus movement. "There are really fun women. That's part of the reason it was so enjoyable for so long."
But they are also very open about the cost of shutting the door on the secular world. "When a young woman enters, she isn't immediately expected to wake up every night [for prayer]. It's something they are gradually assimilated into."
As Reese spent more and more time getting to know the Corpus Christi community, her interest in telling the story in greater depth grew.
"The whole reason I wanted to do this project was to follow young women through the process of transitioning from one identity to another," said Reese. While focused on the Illinois community, she also interviewed a number of other women around the country as they weighed joining an active or enclosed religious order. Currently she is in the process of editing "Chosen (Custody of the Eyes)," a film that follows a 20-something painter and blogger, "Heather" — in both the book and the movie the nuns chose to use aliases — as she becomes the Clare Colettine "Sister Amata."
But when Reese sets foot in the monastery, which is set back from a busy road, and catches a whiff of the incense, the way she experiences the passing of time itself changes, she said. "As I interacted with those women, who have embraced a different, ancient rule, I understood it in a different and much deeper way."
Asked why women who so rarely interact with the culture that laps at their door chose to open up their lives to her, Reese said: "In part they see the benefit of people knowing that this life still exists, that young women are still called."
While she was collecting information, she shared the transcripts with the nuns she interviewed.
And when the book was finished, she gave them a copy which, the mother abbess told her, they passed from one nun to another.
Reese's project has another future benefit: providing the nuns who function as administrators with biographical details about their companions, with whom they often shared the rigor of a daily routine without the small intimacies of secular friendships. "When a nun died," she said, often they didn't know what to put in the monastery record."
[Elizabeth Eisenstadt Evans is a religion columnist for Lancaster Newspapers, Inc., as well as a freelance writer.]
This is the third profile of a six-part series called Contemplative Communities.
Click here to see the introductory article and other profiles, as well as two related columns.
Images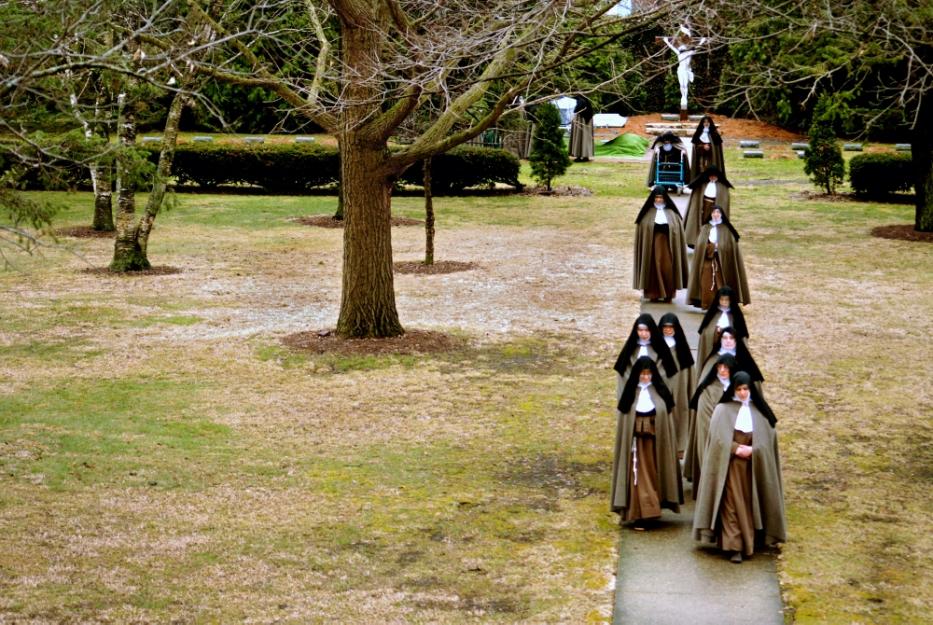 Poor Clare Colettine nuns walk back to the monastery after a funeral service, in 2010, for a cloistered nun who served in WWII before she joined an active order of nuns, and then transferred to the cloistered order at the Corpus Christi Monastery in Rockford, Ill. (© Abbie Reese)