Sr. Louise Lears doesn't know what she will experience in El Salvador — but she knows it will change her.
Lears and 116 others are spending a week in the Central American country, visiting the site where three sisters and a lay missioner were killed 35 years ago. They also plan to visit the site where six Jesuit priests and two others were slain, see martyred Archbishop Oscar Romero's crypt, and visit memorials to the thousands of disappeared during El Salvador's civil war.
"All these years I've read about the places we will go," Lears told GSR before leaving. "I've thought about, prayed about, wondered about the people with whom we will speak. I've wanted to stand in those places, hear those voices, talk to the mothers of the disappeared."
Lears is a Sister of Charity in Cincinnati; three others in her congregation are making the trip, as well.
"I think of this as a really sacred pilgrimage," she said. "I've heard people who have gone to the Holy Land and seen certain places and said they never read the Gospel the same way. I anticipate I'll never read the words of Oscar Romero the same way."
On Dec. 2, 1980, Ursuline Sr. Dorothy Kazel, lay missioner Jean Donovan, and Maryknoll Srs. Maura Clarke and Ita Ford were kidnapped, raped and murdered by government soldiers. The government targeted religious for their work with the poor, work they saw as in league with the rebels they labeled as communists.
Archbishop Romero was gunned down during Mass eight months before after speaking out against the oppression of the poor.
In 1989, six Jesuit priests, their housekeeper and her daughter were killed. The 12-year civil war saw citizens deliberately targeted and terrorized, with thousands kidnapped and killed without a trace. The United Nations estimates 75,000 were killed.
But three and a half decades later, it is the murder of the four church women that somehow still burns for so many.
Ursuline Sr. Janet Peterworth still remembers the moment.
"It was one of those things you remember where you were when you got the news," she said. "Dorothy [Kazel] was from Cleveland; I had just been with a number of Cleveland Ursulines in Canada, so I called immediately to see who it was. We only knew it was an Ursuline."
The murders shaped Peterworth.
"I was involved in the sanctuary movement in the 1980s," she said. "I belonged to a sanctuary church. . . . I was involved with protests, sit-ins during the Reagan administration. We had a sister that went to Guatemala, I testified at a Senate hearing using materials she was sending back to us. I've been to [the School of the Americas protests] two or three times — this has been part of my life for 35 years."
It's been a profound part of Michael Clarke's life, as well — Michael's father was Sr. Maura Clarke's cousin. He grew up with Maura and had spent a couple of weeks in Ireland with her just before she went back to El Salvador for the first time. He was 17 when she died.
"Maura was a giant influence in my life," he said. "I grew up with some extremely strong women in my life; Maura was one of them. She walked the walk and talked the talk."
Michael Clarke, Maura's sister Judy and other family members are making the trip; this will be Michael's first time to the site.
"I have absolutely no doubt that it's going to be extremely overwhelming for me," he said. "I feel very blessed that I'll be there. I'm humbled and very emotional."
The trip is sponsored by the SHARE El Salvador foundation and the Leadership Conference of Women Religious. Of the 117 delegates on the trip, said SHARE Executive Director José Artiga, only six or seven are men. The group was scheduled to arrive in El Salvador on Nov. 28 and depart Dec. 5.
"We're calling it the 100-Women Delegation," he said. "LCWR issued an invitation to every region, so every region of the country is represented."
But the trip is much more than a commemoration of the deaths of the four church women.
Delegates on the trip will also meet with grass roots movement leaders, human rights defenders and mothers of the disappeared. They will also learn about the root causes of the violence that has spurred an unprecedented wave of immigrants from the region trying to see asylum in the United States.
And they will seek justice.
"This year the trip is different because the delegation is presenting a formal request to the attorney general to investigate the intellectual killers [those who gave the orders]," Artiga said. "This was four U.S. citizens killed — we want truth and justice. How did it happen? Who planned it? Who gave the orders?"
There is, however, some good news.
On Nov. 30, the delegation issued a statement calling for a criminal investigation in El Salvador into the killings, which were carried out by the El Salvador National Guard.
The group noted that the United Nations' Truth Commission concluded that the director of the National Guard, Carlos Eugenio Vides Casanova, knew his soldiers had committed the assassinations, helped cover it up and was never prosecuted.
In April, Vides Casanova was deported from the United States for participating and assisting the torture and assassination of thousands of victims, including the four churchwomen.
"The people and organizations signing this statement call upon the Attorney General of the Republic of El Salvador to investigate and give sanction to these facts that are attributed to the former Minister of Defense, Carlos Eugenio Vides Casanova, and the other intellectual authors behind the murder of our four American sisters because they are serious violations of human rights that cannot be prescribed or amnestied," the group's statement said. "As such, we also all upon the Supreme Court of Justice of El Salvador to annul the Amnesty Law or other obstacles that would obstruct justice in El Salvador. Only by taking these steps can we hope to build authentic reconciliation in El Salvador."
For three years, SHARE has been working to get the place the churchwomen were killed named a historic site. The designation became official Nov. 19, and the group will dedicate it when they are there on the anniversary. Now, Artiga wants to build support for a memorial there.
Artiga said that as horrible as the civil war was, the situation is in some ways worse today.
"The most important thing is to know that now, despite the number of people killed during the war, there's been a larger number killed in the post-war period," he said. "We've surpassed the 75,000. In the summer months, there was an average of 30 people killed a day — that makes El Salvador one of the most violent countries in the world."
For Benedictine Sr. Jan Ginzkey, that focus on the present was key to the trip.
"That sharing of culture and getting to know what the issues are today is important to me," Ginzkey said. "One of the main reasons I'm going, of course, is to honor the four churchwomen and the Jesuits and Oscar Romero, but I also want to know what's going on and how to move forward."
Michael Clarke said Maura accomplished so much in life, and somehow accomplished even more in death.
"It raised the consciousness of what was going on down there," he said. "I'm amazed by how many people were pained by what happened."
He also knows that despite the dangers, she was exactly where she wanted to be, doing the work she wanted to do.
"She lived through the Managua earthquake, when we thought she was dead for weeks," he said, "then she ended up in El Salvador. She knew the dangers she was facing, and she communicated that back to us."
But she never hesitated at going, Clarke said.
"Her parents were in their 80s and not doing well, and my father begged her, 'Stay with them, you don't know how much time they have left,'" he said. "She said, 'You don't understand — these people need me more than they do.'"
[Dan Stockman is national correspondent for Global Sisters Report. Follow him on Twitter @DanStockman or on Facebook.]
Updated Dec. 1 to add details from the SHARE statement.
Related - 1980-2015: Memory of El Salvador's church martyrs lives on and Roses in December: A call for an end to impunity in El Salvador
Images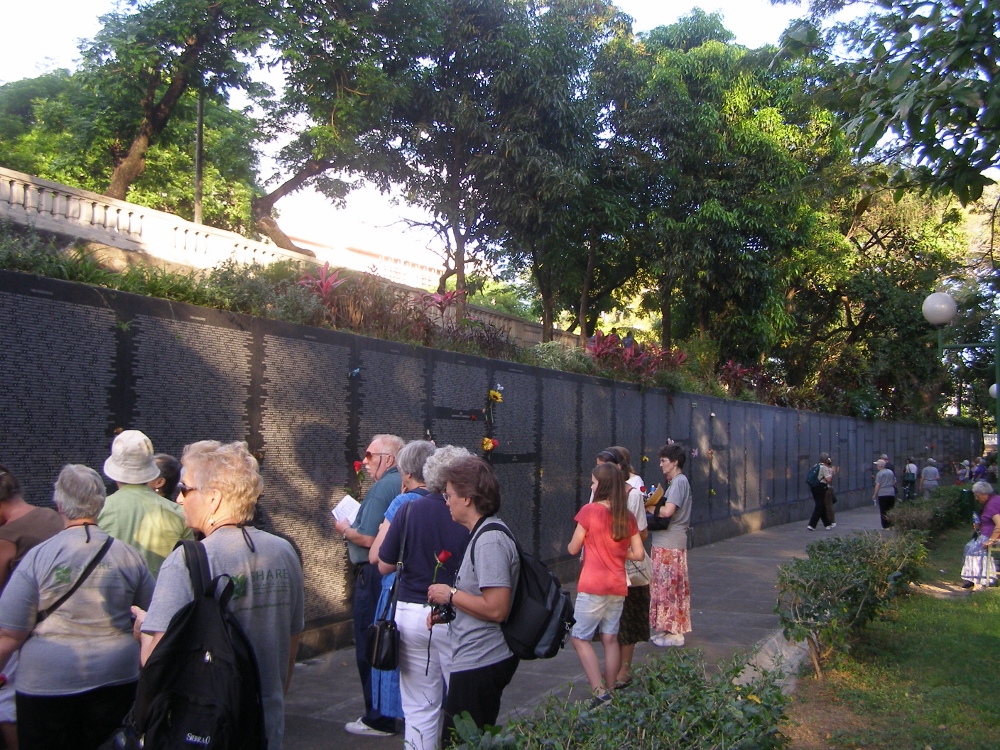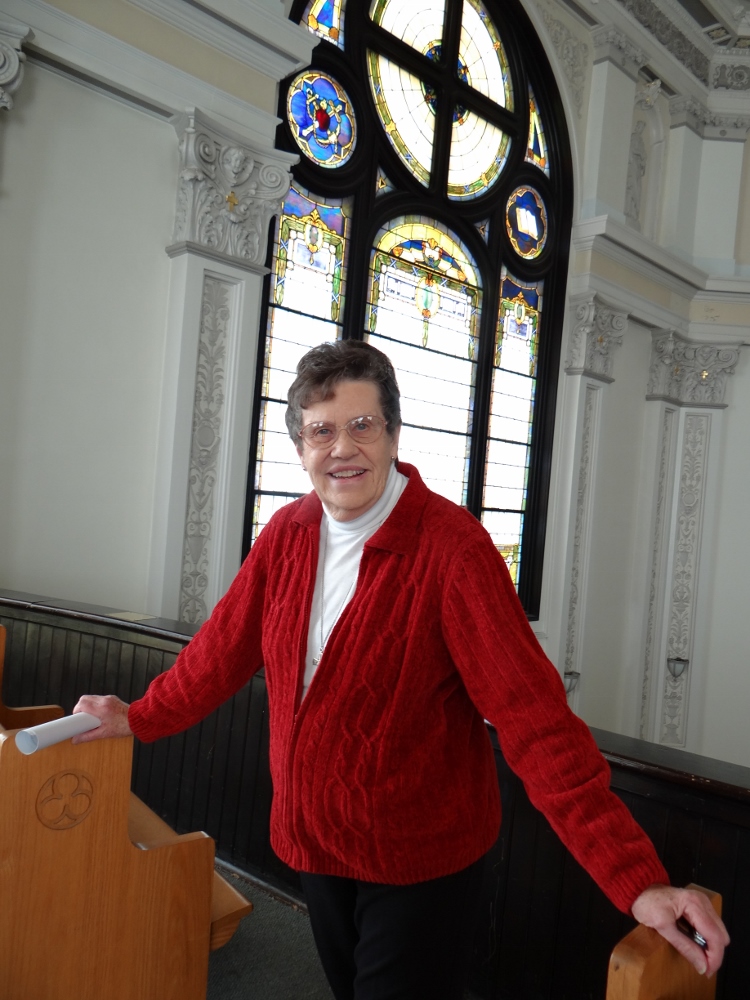 Members of the SHARE delegation meet in El Salvador Nov. 29. (Courtesy of SHARE)