This story appears in the
Sustainable Development Goal 6: Clean Water and Sanitation
feature series.
View the full series
.
Dominican Sr. Agnes Bui Thi My spends nearly four hours every day carefully cleaning water bottles and refilling them from a water-purification system based at her convent.
After work, from about 5 to 8 p.m., local people come to pick up bottled water for their daily use and return empty bottles.
"A clean water supply for local people is one of our ministries in the area," My said. "We aim to provide quality water for people to keep them in good health as a way of bearing witness to Christian values."
She said clean water is a common natural resource and all people should have the right of access to it.
She said water from wells is often adulterated with lime and magnesium and not suitable for human health. Most wells are depleted in the dry season, and rivers are polluted with garbage and waste from local people.
My said people who have little money get free water from them, while others pay the sisters 5,000 dong (22 cents) for a 20-liter bottle and 10,000 dong for a 30-liter bottle of water.
Local traders charge almost double that, selling 20-litre bottles for 9,000 dong, or 40 cents each.
Mary Nguyen Thi Tuyen, who for four years has used water from the nuns for her six-member family, said people prefer the nuns' product because it "tastes sweet and is sold for a cheap price." Water from traders smells bad because they use chemicals to process it, she said.
My uses the cash to pay power bills and maintain the water-purification system, which was funded by the Conrad N. Hilton Fund for Sisters in 2010. (The Conrad N. Hilton Fund for Sisters is part of the Conrad N. Hilton Foundation, which funds Global Sisters Report.)
She said the water supply for the system is from a 160-foot-deep well in the compound of her convent. "We are lucky that the well produces enough quality water year round. We provide over 1,000 liters of water a day for people," she said, explaining that the water quality is certified by the Institut Pasteur based in Ho Chi Minh City and is treated with ultraviolet light before use.
Creating solidarity with people
My, who heads a four-member community based in Tan An Commune in the Vinh Cuu District of the southern province of Dong Nai, said the clean water ministry gives them opportunities to reach out to other people, especially people living in poverty in the area. There are some 1,000 Catholics among a total population of 9,000.
Most of the local people moved from northern Vietnam's provinces in the 1980s and work on farms or in wood furniture factories for a living. They do not have a lot of material resources, and many families cannot afford to send their children to day-care centers.
"Through our clean water supply, we can meet many people of other faiths, especially the poor, and share with them what we have," she said. The nuns offer them scholarships and basic food, and comfort them with spiritual support.
Arriving in the area in 2000, the Dominican nuns run a day care center for 50 children, teach catechism and do other pastoral work.
Dominican Sr. Anna Tran Thi Thanh Thu, head of another five-member convent in Loc Quang Commune, Loc Ninh District of Binh Phuoc Province, southern Vietnam, said she installed a water-purification system, also funded by Hilton, last November to supply clean water for local people.
These nuns offer drinking water to people without charge and sell low-cost water to those who can afford it. "All people can have access to our water," she said, which in Binh Phuoc is also half the price the tradesmen charge.
Thu also asks local traders who buy water from the convent to mark down their price per 20-litre bottle from 10,000 to 7000 dong — 31 cents — "because our water project aims to serve poor people."
The nuns here use water for their day-care center that serves 100 children. Thirty of them are from Khmer and Stieng ethnic minority groups and are taught for free.
The nuns, who came to this area in 2013, offer food and drinking water to 80 Khmer children who attend Sunday courses in their mother tongue as a way to preserve their native language and tradition. Most of the Khmer ethnic youths do not know how to read and write in Khmer because they use Vietnamese at school.
The sisters also visit elderly people who have no relatives and distribute rice, cooking oil, sugar, fish sauce, instant noodles and other items to them. And they collect discarded doors, iron sheets and wood to repair and build houses for people.
"Thanks to meeting with people who come to get our water, we can make friends with them, listen to their emotions and worries and then manage to help them," Thu said enthusiastically.
[Joachim Pham is a correspondent for Global Sisters Report based in Vietnam.]
Images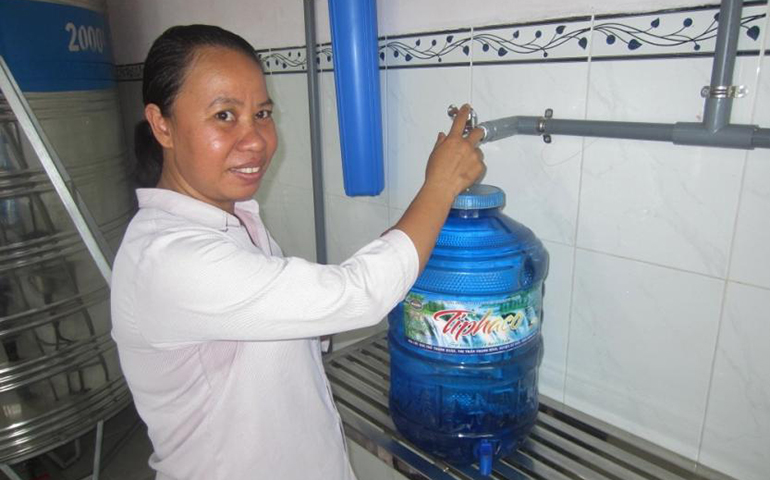 Dominican Sr. Anna Tran Thi Thanh Thu bottles water treated with ultraviolet light for clients at her convent in Binh Phuoc Province. (GSR/Joachim Pham)