This story appears in the
Sustainable Development Goal 4: Quality Education
feature series.
View the full series
.
Summer is a long vacation for all students in Vietnam, but it affords precious time for ethnic students in the nation's Central Highlands to work hard and prepare for the coming academic year.
From June to August, Mary Ben, 10, finished a catechism course and received her first Communion on Aug. 4. A fourth-grader, Mary attended courses in math and Vietnamese to prepare for the coming school year and reviewed fourth-grade subjects.
She is among 25 ethnic students in grades one through 12 who are attending summer courses held in Pleiku City by Dominican Sisters of St. Rose of Lima.
Mary spent time learning how to play the electronic organ and practicing hymns.
"I love playing the organ so I have to practice it and hope to play it in church in the future," the Jarai ethnic student said. "I am happy to spend the summer here taking helpful courses and playing with my friends."
Sr. Catherine Dang Thi Kim Thu, head of a five-person community that asked not to be identified, said the nuns teach math, English and Vietnamese to the students, who are from Sedang and Jarai ethnic groups. They also offer free accommodations and food without charge at the convent, where courses are held.
Thu said most ethnic students perform badly at school because they are not good at the national language of Vietnamese, speak only their ethnic tongues and have little contact with outsiders. Many students have to repeat the year two or three times.
She said the nuns have to tutor students in some main subjects in advance so that they can catch up with other students in the academic year, which starts in September.
She said many students, who live in remote villages and cannot regularly attend church, need to take catechism courses provided by the nuns in the summer to receive first Communion and confirmation later in the year.
Those who show a natural aptitude for music take music courses since they have no organs at their homes, she said.
Most of the children are from large, poor families who are short on food in the rainy summer season, so they choose to stay with the sisters.
Maria Hreng, a Sedang ethnic 11th-grader, said she worked for an orchid farm in June and July and was paid 6 million dong ($260). The nuns gave her free accommodation close to her job, and Maria took summer classes in August.
"I will use the money to buy clothes and books and cover school fees in the new school year," she said. Her younger sister, who will be in 10th grade this year, attended a summer music course.
"We would not finish high school without the nuns' support," said Maria.
Thu said the nuns are assigned to serve ethnic villagers in remote areas. "We visit and offer them food, teach them catechism and Vietnamese at their villages, and give them pastoral care," she said. Most villages have no resident priests and nuns.
Local authorities in the communist country limit religious activities by preventing nuns from working with ethnic minority groups. Sisters are discouraged from giving students accommodation and faith education, erecting hostels or visiting villagers. The government refuses to allow nuns to reside in the area and build lodging.
Besides education, the sisters' work reduces the impact of a significant cultural problem in the area.
Sr. Mary Tran Thi Kim Cuc, a member of the Lovers of the Holy Cross of Phan Thiet, said summer courses are a helpful way to protect ethnic female students from getting pregnant by their relatives.
Extended family members traditionally sleep together on the same floor, and men take to drink after work, contributing to incidents of incest. Village children get married when they are 14 or 15 years of age.
As a result, some female students who are on summer holidays at home become pregnant or suffer psychological problems and have to leave school.
Cuc said this year the nuns provided free summer courses for 20 Banar and Jarai ethnic students at their house based in Gia Lai province.
A teenage girl, who will be in 12th grade next year and did not give her full name, said she was recently on vacation for two weeks at her home village.
The Jarai student, who has four siblings, said she dared not stay too long there because it is dangerous when young villagers drink and sleep together during village festivals. Many also take heroin, she said.
The girl said Lovers of the Holy Cross of Phan Thiet nuns tutor her in math because she has not performed well on the subject at school. She also learned how to behave more openly to those outside her ethnic group, maintain personal hygiene, deal with her problems and cook — lessons not taught in her village.
A Sisters of Providence community offers free summer courses and accommodation to 80 ethnic students at a church-run hostel in Kontum province.
The sisters said many children who suffer from malnutrition gain weight after taking their courses and having regular meals. Some, however, are returned to their homes because they miss their families or their parents demand their return.
Fr. Peter Nguyen Van Dong, the Kontum Diocese's vicar general, said the sisters' summer courses make a positive contribution toward getting children to go to school and increasing education among ethnic groups who live in poverty and do not put a priority on schooling.
Dong said village teachers ignore the quality of education for ethnic students and many fourth-graders cannot read and write Vietnamese well.
The Kontum Diocese has 23 congregations for women with 555 members, many of whom minister to 3,000 ethnic students over the summer.
The diocese, which covers both Gia Lai and Kontum provinces, is home to 30 ethnic minority groups. It serves 100,000 Catholics from the Kinh group (native Vietnamese) and 250,000 from 10 ethnic groups.
[Joachim Pham is a correspondent for Global Sisters Report based in Vietnam.]
Images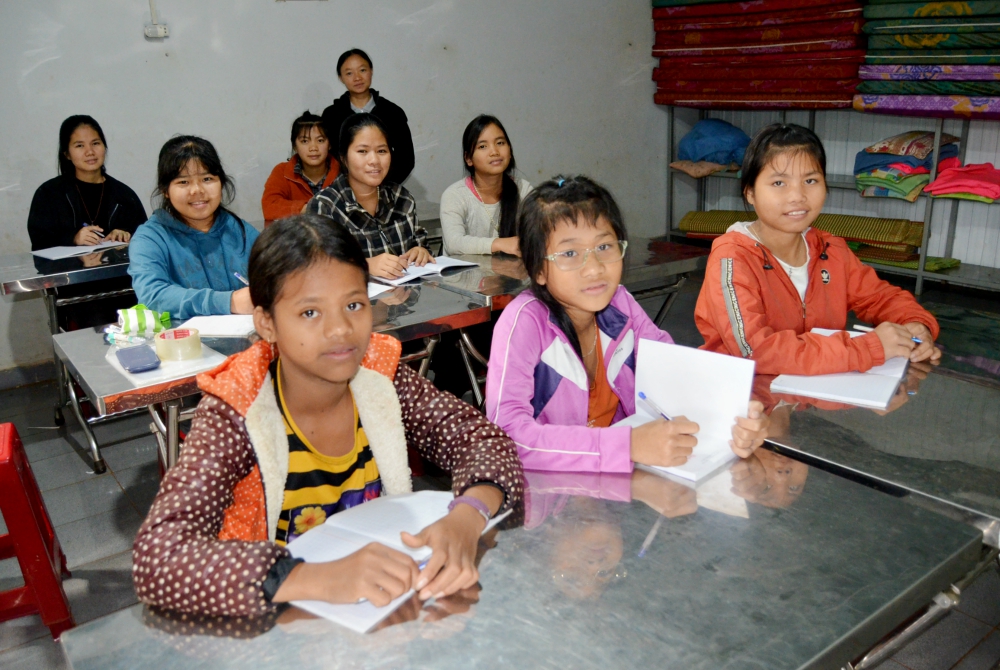 Mary Ben (wearing glasses) and her friends study math in advance of the coming school year. (Joachim Pham)