Spending her religious life as part of a Christian minority in Muslim North Africa helped prepare Sr. Carmen Sammut for the diversity of opinions and backgrounds shared at the Vatican's Synod of Bishops on the family.
Sammut, head of the International Union of Superiors General (UISG) and one of three sisters auditing the historic gathering, said circumstances and thoughts brought to the synod are so much more diverse than the simple conservative vs. progressive narrative often described in the media.
"One of the things I appreciate very much being in the synod is the universality — the whole world is there," said Sammut, a Missionary Sister of Our Lady of Africa who is originally from Malta. "The groups are made up to have very big differences, to have very different backgrounds. People from the Middle East, Africa, Japan, Europe — you have very, very varied experiences."
The other sisters auditing the synod on the family are Religious of the Sacred Heart of Mary Sr. Maureen Kelleher, a founding member of the Catholic social justice lobby group NETWORK and an attorney running a legal aid office in Florida, and Costa Rican Capuchin Sr. Berta Maria Porras Fallas.
Auditors are allowed to attend and participate in the discussions but not to vote on any final document or issues. Among the auditors are 17 individuals and 17 married couples. Thirteen of the individual auditors are women, including the three religious sisters.
Sammut said in the small group to which she was assigned, the discussion began with context rather than with the working document prepared at last year's synod.
"People brought in a war context and their lived experience in that. There was migration. Many people spoke of their own families, and you have ... all the different types of experiences being lived today," she said. "That was very good, because then we had in front of us not an abstract idea of families, but our own families."
Sammut said at this stage, it is impossible for her to see what direction the synod is going. Currently, she said, they are in the process of getting through "interventions," in which each participant gets one chance to spend three minutes speaking.
"One really has to pay attention to what is said. On the days when we are in assembly, we have 70 interventions of three minutes each — it's quite taxing for the mind," Sammut said. "It's easier when we are in little groups and there is more time to interact. With the interventions, you don't know if it's one opinion or if other people have that opinion also. I'm still not sure who thinks what."
The result, she said, is a huge blanket of opinions that will need to be distilled into one cogent document.
"You don't know where you're going. You say, 'What is this about?' You're kind of in a tunnel — you listen and listen and listen, and there are so many interventions, and one can contradict the other, of course, which is also part of the richness," Sammut said. "In the group, we try to make sense of all this and put things together. However, we don't know once they get all these desires for amendments what will pass and whether they will just rewrite the text or try to patch it up with all this."
Does she feel extra pressure as one of relatively few women to represent the voices of half the church? And does she feel her input is taken seriously?
"I don't feel a difference [in treatment]. If I have something to say, I can say it. In the group, you can see that people evolve, that the Holy Spirit is at work. We all evolve, because someone says something and you see yourself," Sammut said.
As for extra pressure, "I don't really feel that. I bring what I can bring. I know that there are only three women religious, so whenever I feel I should say something, I do, but it's very limited. Of course, during break, you can always meet somebody and talk."
Even in the diversity of opinions represented, she said, there are some clear divisions.
"Some people know canon law a bit too well, and they seem to really want to stick to it, but I don't know how big that group will be. They speak from that stance, which is good, but others speak as pastors: They're more concerned for their people, their families," Sammut said. "But what I like very much about the Gospel and mercy is that it is not, 'Here is the truth, and over here is mercy,' it is mercy that is the truth."
She said those who see the church facing a choice between the truth of the law and showing mercy have it wrong.
"It's not like mercy is condescending to something so we can have more people. It's living the Gospel. It's living like Jesus," Sammut said. "I would hope this is something the synod would say for the next generation."
Regardless, Sammut knows she's playing a role in history.
"I do feel I'm living something important, and when I feel that we are evolving, I feel that yes, we are living a holy story, the story of the people of God," she said. "In that, I think, yes, we are participating in something which is bigger than ourselves, and I hope something good will come from this for the whole church and beyond."
On Oct. 26, a day after the synod concludes, UISG will host a public meeting in Rome for Sammut to talk about her experiences.
[Dan Stockman is national correspondent for Global Sisters Report. Follow him on Twitter @DanStockman and on Facebook.] 
Images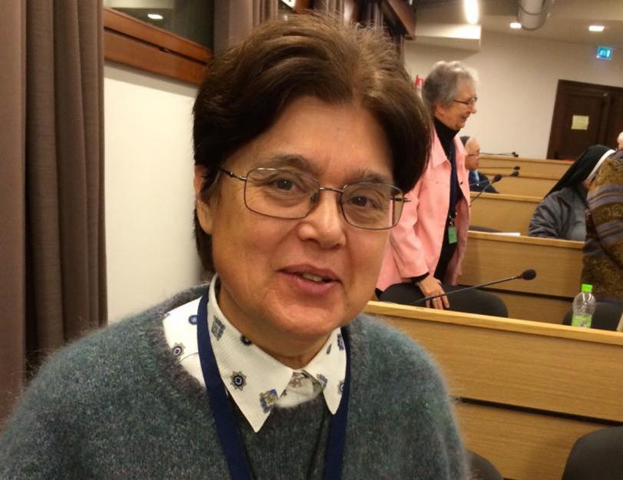 Sr. Carmen Sammut (NCR photo/Tom Fox)