She was bombarded with high-fives and hugs after she got the call — an invitation to meet Pope Francis during his Sept. 22-27 visit to the United States. But Sr. Norma Pimentel's biggest surprise came Monday, when the pope singled her out during a satellite video feed.
In front of some 400 parishioners, immigrants, government officials and volunteers at Sacred Heart Church in McAllen, Texas, Pope Francis called to the nun from a 9-foot video screen and asked her to come forward.
"I love you," the pope said, thanking her for her work ministering to immigrants along the U.S.-Mexico border.
"The whole assembly just rocked with joy and happiness," Pimentel said. "It was a very special moment."
"We're still speechless; we're still in awe over the whole event," said Josh Ramirez, director of Health and Code Enforcement for the city of McAllen and one of the officials in attendance.
Pimentel and Sacred Heart parishioners expected to discuss immigration in a video conference for ABC's "20/20," but they had no idea who the main speaker was going to be.
"They screamed and they yelled and they stood up and cheered" when they saw the pope, Ramirez said. They even had an ambulance ready "in case people should faint," which is standard protocol for large events, Ramirez said.
Producers of the one-hour special that will air Friday, Sept. 4 hooked up three cities for the teleconference: Los Angeles, Chicago and McAllen. As the moderator began speaking, Pope Francis interrupted, saying he wanted to say "hi" to someone. That's when he asked Pimentel to come forward, Ramirez said.
Pimentel's brush with the pope Monday is just one of several encounters. The Missionaries of Jesus sister was in her office a few weeks ago when she got the first call, an invitation to the pope's Sept. 23 Mass in Washington, D.C. Another phone call from a White House staffer soon followed, inviting her to meet Pope Francis during his visit with President Barack Obama that same day. Then Sr. Donna Markham, president of Catholic Charities USA, gave her a ring. She asked Pimentel to join her for a tour with the pope and a priest. Pimentel could not remember what place they are visiting, only that it is on Sept. 25.
"It's wonderful. It's a dream come true because it's something that I have always wanted to do," Pimentel said.
Although not quite sure why she was chosen, Pimentel, executive director of Catholic Charities of the Rio Grande Valley, thinks her efforts to provide a respite center for formerly detained immigrants caught the pope's attention.
The sister began the center at Sacred Heart Church during the immigration surge of 2014. Two air-conditioned tents were set up in the parking lot to provide temporary food and shelter for immigrants freshly released from detention centers along the southern border. The center was designed for those who had nowhere to go while waiting for bus and plane departures out of McAllen.
One tent was removed when the number of immigrants waned, but it was brought back in July as the numbers ticked up again. Pimentel estimated that about 100 people visit the center each day; more than 22,000 immigrants have come through its doors, said Mayra Garza, a volunteer at the center. The increasing numbers made Pimentel realize that she needed to make the respite center more permanent, she told Global Sisters Report in an Aug. 3 interview.
"She's done a lot of work for the people that come," Ramirez said. "It's through her initiative that we've been able to provide all the assistance that they need." Ramirez' department has supported the respite center by providing security and medical units, as well as setting up tents provided by nonprofits.
"She's a super person, super brave and strong," Garza said in Spanish. "Not everyone would make the decision to help when so many people are opposed [to immigration]."
For McAllen residents, the pope's salute to Pimentel has been a source of pride. Ramirez and Garza both said they couldn't sleep after the video conference.
"That was the most amazing thing that could happen to us," Ramirez said. "If she's getting the blessings, we're feeling them, as well."
"They say, 'I'm so happy for you,'" Pimentel said. "'Can I go with you in your suitcase? Can you take me with you?'"
Even though Pimentel will have three opportunities to see Pope Francis, she isn't sure she will be able to talk to him. She hopes to give him a hug and to thank him "for being such a wonderful inspiration to us, for his encouragement, for his blessing."
But despite all the fuss and excitement, Ramirez said Pimentel refused to take the credit for being singled out by the pope.
"After the event, she turned around and said, 'It is thanks to all of you that I was being recognized.'"
[Nuri Vallbona is a freelance documentary photojournalist. She worked for the Miami Herald from 1993 to 2008 and has been a lecturer at the University of Texas and Texas Tech University.]
Related: Immigrant respite center responds to sudden increase
Images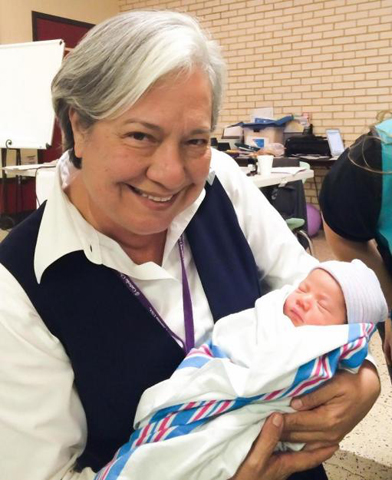 Missionaries of Jesus Sr. Norma Pimentel holds a newborn baby at the humanitarian respite center she started at Sacred Heart Church during an immigration surge in 2014. (Herminia Forshage/Courtesy of Catholic Charities of the Rio Grande)