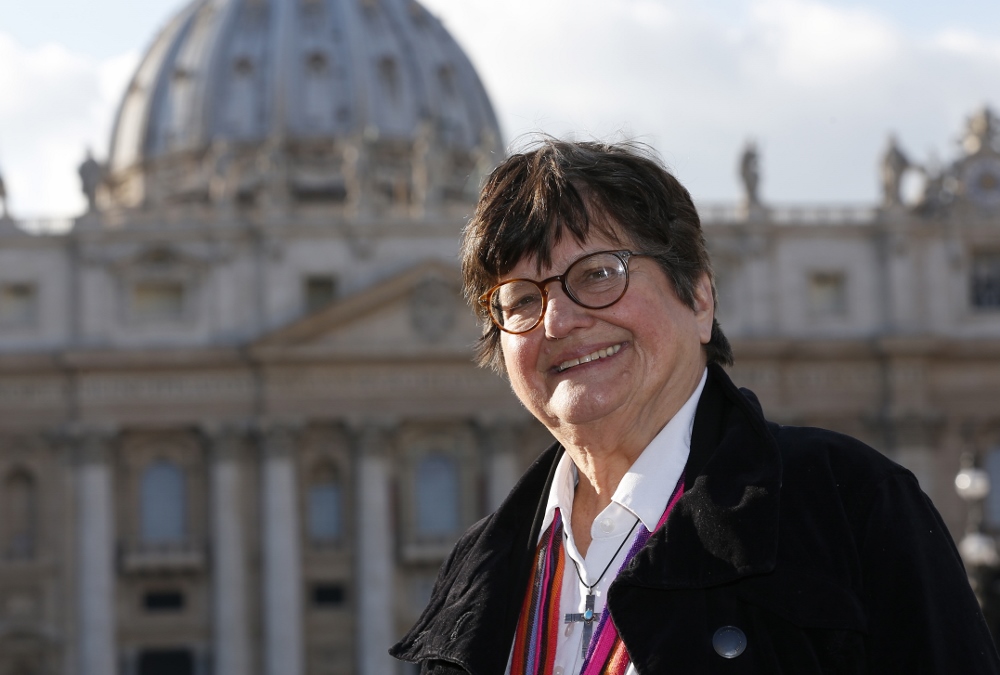 St. Joseph Sr. Helen Prejean, who has worked in prison ministry and against the death penalty for decades, is pictured in St. Peter's Square at the Vatican Jan. 21. During a meeting the same day, Pope Francis asked Prejean about the case of Richard Masterson, a Texas man who was executed the previous day. (CNS photo / Paul Haring)
Vatican City — Professional pilgrimage planners and those who regularly receive or accompany pilgrims set off on their own Year of Mercy pilgrimage in late January.
Most had experience working with pilgrims to Lourdes, Fatima, the Vatican and World Youth Days. But one had a unique experience: St. Joseph Sr. Helen Prejean says she is a constant pilgrim to the "holy land" of the human dignity and pain of society's most despised members.
The author of "Dead Man Walking" and a campaigner against the death penalty had a special experience Jan. 21 during the Vatican's Year of Mercy "Jubilee for Those Engaged in Pilgrimage Work." She was invited to Pope Francis' early morning Mass and had a chance to speak to him briefly afterward.
"Yesterday?" the pope asked Prejean. She had to tell him that Jan. 20 Texas carried out the execution of Richard Masterson, convicted of murder. "I pray, I pray," the pope responded, she said.
Prejean was not in Rome to meet the pope; that happened thanks to the intervention of a priest friend who knew she was taking part in the jubilee. And while she does not consider herself a pilgrimage worker, as she attended the three days of conferences, catechesis and prayer services, the connections and relevance to her own ministry became clear.
For example, Msgr. John Armitage, rector of England's Basilica of Our Lady of Walsingham, spoke about the crucial importance of giving each and every pilgrim and visitor to a shrine a proper welcome.
"You've driven four hours to come here and you deserve at least a smile and 'I'm glad you're here,' not 'I've no time' or 'The shrine closes in 10 minutes,'" Armitage said. Pope Francis' focused on the same obligation of welcome when he addressed the group Jan. 21.
Speaking to Catholic News Service, Sister Prejean said, "Smile — it's such a cliche," but it is simply, shockingly important. On death row, she said, just having a visitor is a signal that says "you are a human being because they get a thousand signals a day that they are nothing but disposable human waste."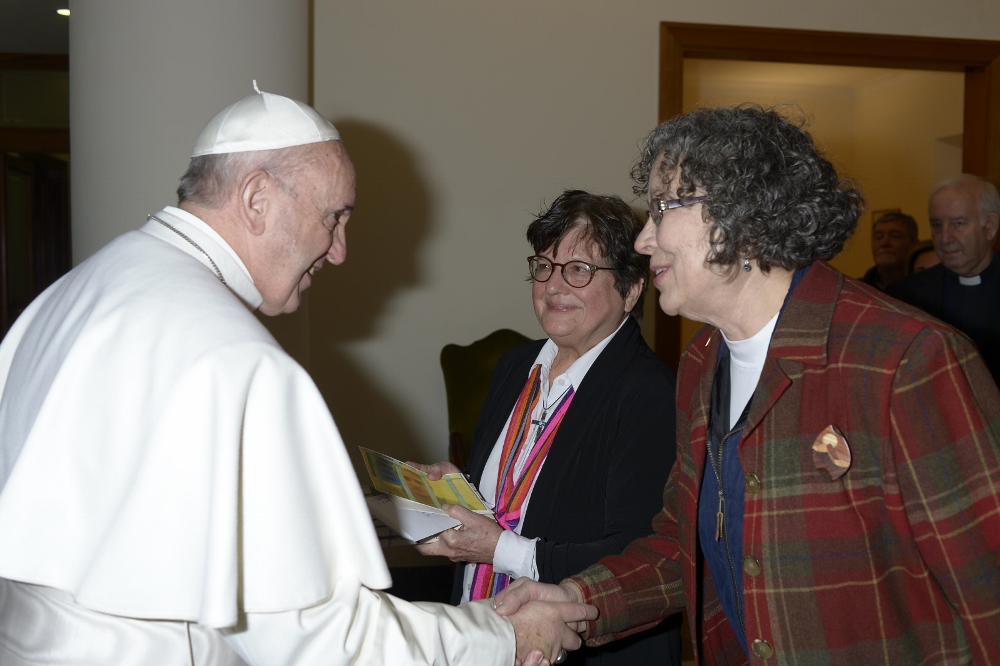 Pope Francis shakes hands with St. Francis Sr. Marya Grathwohl, executive director of the U.S.-based Earth Hope ministry, after his morning Mass at the Domus Sanctae Marthae at the Vatican Jan. 21. Also pictured is St. Joseph Sr. Helen Prejean, who has worked in prison ministry and against the death penalty for decades. (CNS photo / L'Osservatore Romano)
"Here's what I realized about pilgrimage: First of all, you leave your little comfortable zone to go out on the road toward a place of holiness. That has been to death row. It is pilgrimage. It is setting out. And it has brought me into this land, this very holy place of the dignity and the goodness of people who are so despised and condemned."
Prejean is not naive. Many of the people she has ministered to and accompanied to the electric chair or the chamber where they are given a lethal injection "have done unspeakable crimes and are guilty," she said. But they are human beings created by God.
"People often say their big ambition is to go to the Holy Land, but I feel like I have been and I keep going to the holy land where people are suffering," she said.
Armitage, in his formal presentation to the English-speaking participants Jan. 20, said another thing that resonated with Prejean and many of the others, especially those who accompany pilgrims and volunteers to the baths at Lourdes, France.
"A pilgrimage is not just about where you pray, but it's about what you do," he said. "That's what makes the journey so powerful. When you wake young people up at 5:30 in the morning to bathe and toilet patients, that's powerful."
A pilgrimage, like the entire Year of Mercy celebration Pope Francis has called for, is about "prayer, penance and doing something," he said.
Prejean said that although visiting prisoners is one of the traditional corporal works of mercy, it's something most Christians are afraid to do.
"It's about fear and being told we must hate someone," she said. "Where there is no physical contact, where you can't look in someone's eyes, where you never see them and all you hear is, 'These are the worst of the worst. Look at the crime they did,' it becomes this shield, this barrier to being able to see, to hear their cry and to have compassion."
Mercy does not mean wiping your heart of "legitimate outrage over the death of innocent people," Prejean said. "But then we have to go from that outrage to how should we respond in the manner of Christ? That's a harder journey to make."