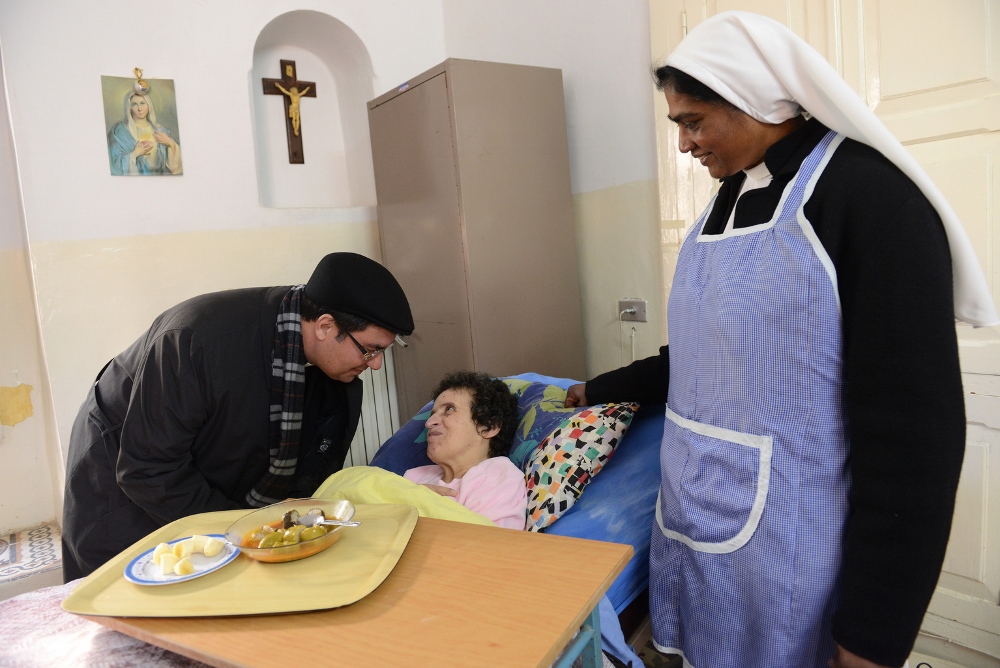 Bishop Oscar Cantu of Las Cruces, N.M., greets a Palestinian woman at St. Anthony Society home for the elderly in Bethlehem Jan. 14. Cantu is part of the Holy Land Coordination visit for bishops from Europe and North America. (CNS photo/Debbie Hill)
Bethlehem, Palestinian Territory — A group of bishops visiting the Holy Land was impressed by the charitable care given to those with physical and mental needs in Bethlehem.
"There are a lot of volunteers and institutions here," said Archbishop Joan Enric Vives of Urgell, Spain. "They are a great witness to the service of charity and desire for peace. This gives hope."
Bishop Oscar Cantu of Las Cruces, New Mexico, was similarly moved, saying he was "very impressed to see the very young sisters full of life and full of joy taking care of these children who can't be taken care of by their families or who don't want to take care of them because of social taboos."
"The joy and love here is palpable. It is just a tremendous witness to God's mercy in the community, which is very much needed in this land," said the bishop, part of a delegation of 16 bishops of the Holy Land Coordination.
Auxiliary Bishop William Kenney of Birmingham, England, said the Jan. 14 visit to the Lifegate Rehabilitation Center in Beit Jalla, West Bank, had also given him hope.
"They are doing things which (I have been saying) this society needs – bringing Israelis and Palestinians together – namely in a joint wheelchair basketball team," he said.
Bethlehem is the most advanced Palestinian city in terms of dealing with the physically and mentally disabled and the most needy of the population, said Argentine Sr. Maria Pia, who greeted a group of the bishops at Hogar Nino Dios. The home is run by her order, the Sisters of the Religious Family of the Incarnate Word.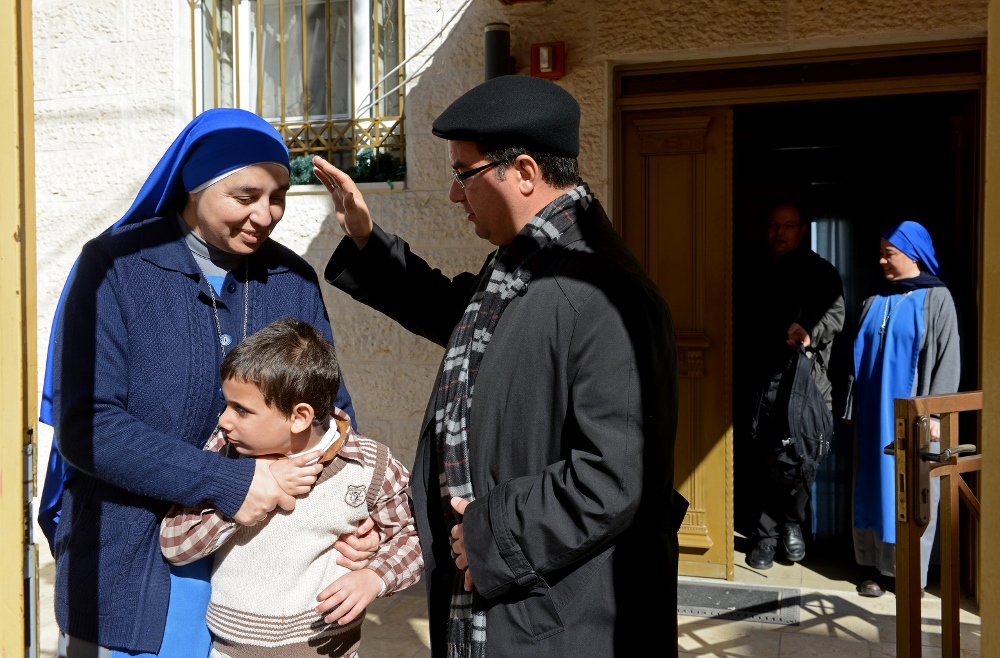 Bishop Oscar Cantu blesses a nun Jan. 14 before leaving the Hogar Nino Dios, a home run for abandoned and disabled children in Bethlehem. (CNS photo/Debbie Hill)
The majority of the institutions that care for the disabled are Christian, she added, noting that physical and mental disabilities are still regarded by many Palestinian families as an embarrassment and they either keep the children hidden away or abandon them.
"It is a sad reality, and there is a great need," she told the bishops. "We show the charity of the church."
The home, whose new building was inaugurated in 2011, is run by five nuns of the order with the assistance of two priests and numerous lay staff, including a nurse, doctor, physical and musical therapists and a cook – all of whom help look after 23 disabled and abandoned children, of whom seven are Christian.
They are funded solely through charitable donations, Pia said.
The nuns maintain a home-like atmosphere, and as the group of bishops entered the living area, several little boys ran up to greet them, jostling for attention. Older girls in wheelchairs grinned as the bishops bent down to hold their hands and speak with them.
A 4-year-old with Down syndrome climbed his way onto the laps of several of the bishops in turn as he tried to reach for more of the cookies the sisters had placed on a table.
One of the special treatments the home offers is hydrotherapy, said Pia, but though several Israeli hospitals were eager to train their physical therapists, they were unable to obtain the necessary travel permission from the Israeli authorities. The therapist was sent to Italy for training because she could not reach a Jerusalem hospital – less than 20 minutes' drive away.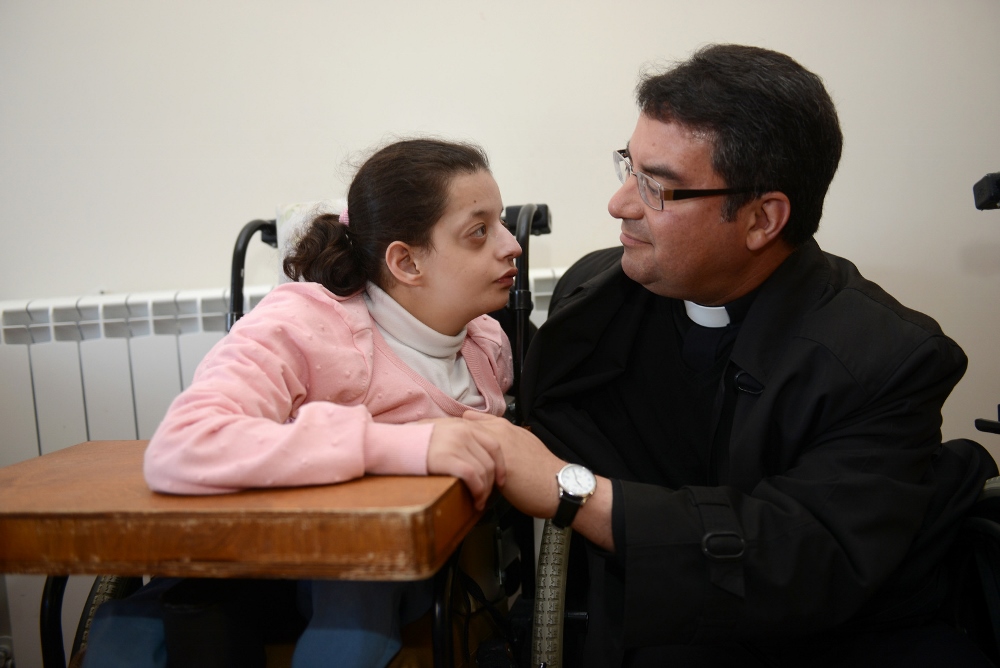 Bishop Oscar Cantu of Las Cruces, N.M., interacts with a Palestinian girl Jan. 14 in the Hogar Nino Dios, a home for abandoned and disabled children in Bethlehem. (CNS photo/Debbie Hill)
However, Pia added, some of the children have received advanced medical treatments at Israeli hospitals.
At the St. Anthony Charities home, bishops met with the elderly women who live there as well as other elderly poor who come in for a meal and activities four times a week.
"The bishops' visit here is very important and welcomed so they can see what kind of work we are doing for the homeless and the destitute," said Tony Dabdoub, secretary-general of the society. "It is very important for them to come, especially at this time when Christians, not only in Bethlehem but in all of the Middle East, are having a rough time. Such a visit makes us feel a little bit secure that the Christians all over the world are still thinking of us and that we are not forgotten."