Facts about Hansen's disease:
• It may take two to 10 years before any signs and symptoms of Hansen's disease appear.
• The disease is spread by a bacteria that can be transmitted by coughing or sneezing.
• Only 5 percent of people are susceptible to contracting the infection.
• Hansen's disease is curable with antibiotics for six months to two years.
• Once treatment begins, the disease is not contagious.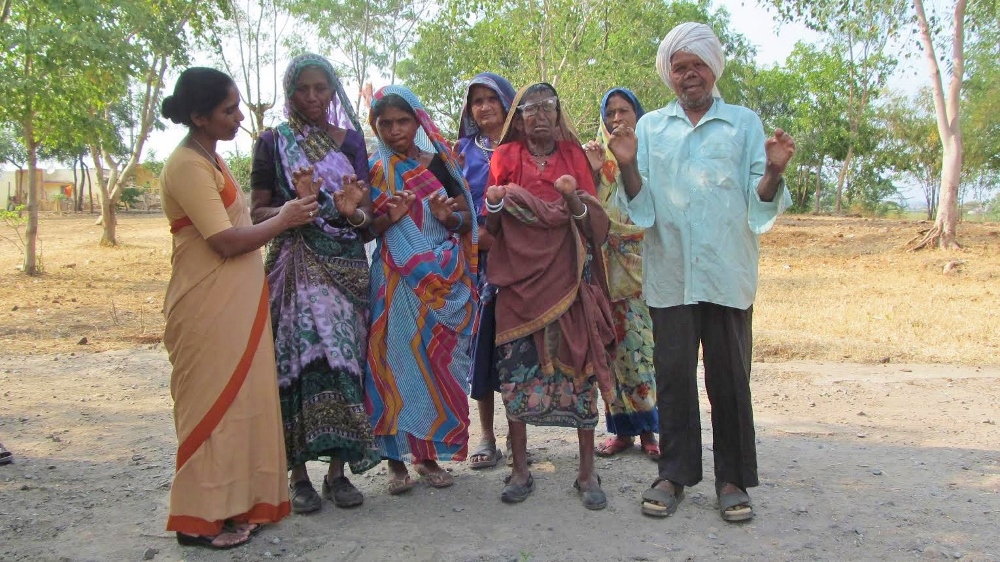 Sr. Julia Thundathil interacts with people living with Hansen's disease at Harsha Nagar, an enclave for leprosy patients in central India. (GSR photo / Saji Thomas)
Bhopal, India — "This is my new life and I am indebted to my Ma [mother]," says Gundeli Bai, who has lost fingers on both hands due to leprosy. "I would have died, and my body could have been eaten by dogs long ago," says Bai, who has been living for more than two decades in an enclave for leprosy patients started by her "Ma," Sr. Julia Thundathil.
Leprosy, or Hansen's disease, is a skin disease considered to be a curse in India. Those infected with it are ostracized from family and society.
Thundathil, an Augustinian nun, set up the enclave for leprosy patients at Sendhwa, a village in Barwani district in the central Indian state of Madhya Pradesh.
Bai is among six leprosy patients who had a chance meeting with the Catholic nun in 1994. The septuagenarian woman says her parents had died early, and after she was detected with leprosy, her only sister left her on the road. At the enclave, she earned the nickname "Sundari Bai" (beautiful woman) because of her cheerful disposition.
Thundathil met Bai and others during a visit to Sendhwa. "I found them on the roadside with worms coming out of their wounds," Thundathil told Global Sisters Report. The encounter motivated her to dedicate her life to restoring dignity to lepers.
"All of them" she said, "were in their 60s and they were begging for food, as they had not eaten for days." Their wounds were attracting flies, and people often chased them away, she added.
"I approached them and inquired how they reached there, and their stories were really heartbreaking," Thundathil recalls.
"I immediately returned to the convent, collected cotton and medicines to dress their wounds and a bucket to give them baths." She bathed all of them, including Bai, the lone woman among them, and dressed their wounds and fed them there.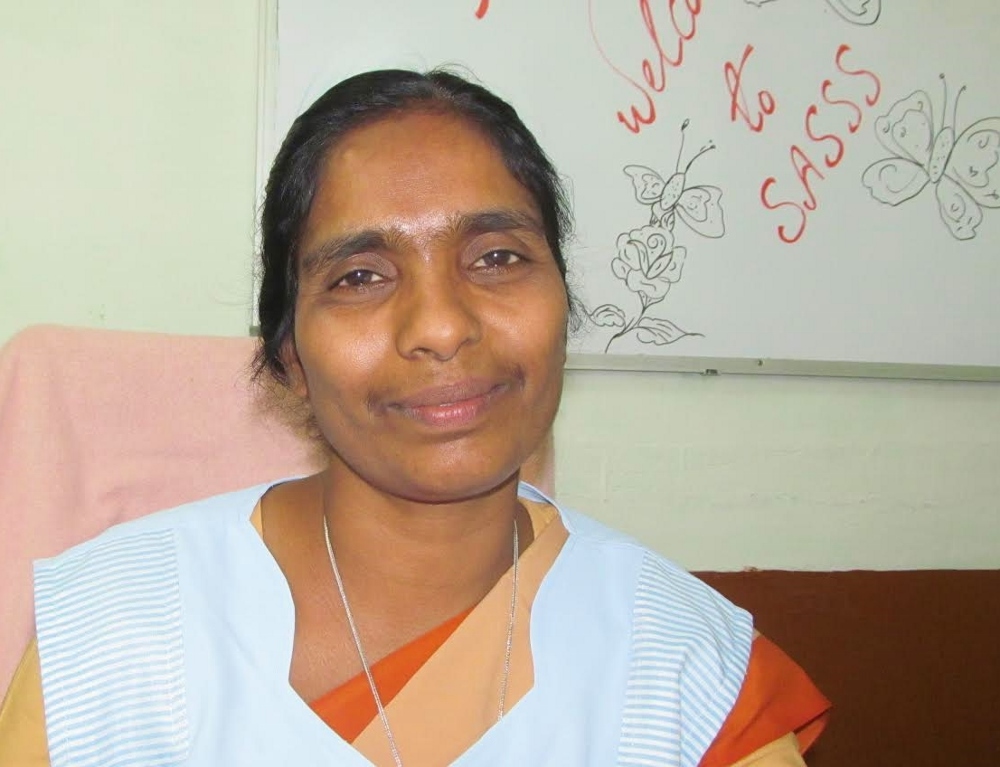 Sr. Julia Thundathil in her office at St. Augustine Social Service Society, Sendhwa, Madhya Pradesh, India. (GSR photo / Saji Thomas)
"As I had no place to accommodate them, I had to leave them there and return to the convent with a heavy heart," she says.
Sundari Bai is among 258 lepers from 85 families living in Harsha Nagar (joyful city), the leprosy patients' enclave.
Sub Divisional Magistrate Mahesh Badole, a top official of the district, says, "Whatever you see here is the outcome of the perseverance and hard work of Sister Julia."
The official is the president of the Harsha Nagar Trust, which Thundathil formed in 1995 for managing the enclave. The trust's constitution stipulates that its president should be the magistrate. Thundathil said she insisted on that provision because she hoped to get government help and public participation. Otherwise, the enclave would have become "purely a church-run institution," she explains.
The government allotted 7 acres of land to set up the enclave, which gets nothing else substantial for its maintenance.
Badole says Thundathil provided "proper accommodation for every family in the [enclave] with the resources she had mobilized from donors and other funding partners."
What impresses him is that the nun cleans the lepers' wounds and dresses them "one after another, every day, without any hesitation, as if caring for a small kid."
He says the residents in the enclave have survived so long "precisely on account of her dedication and hard work."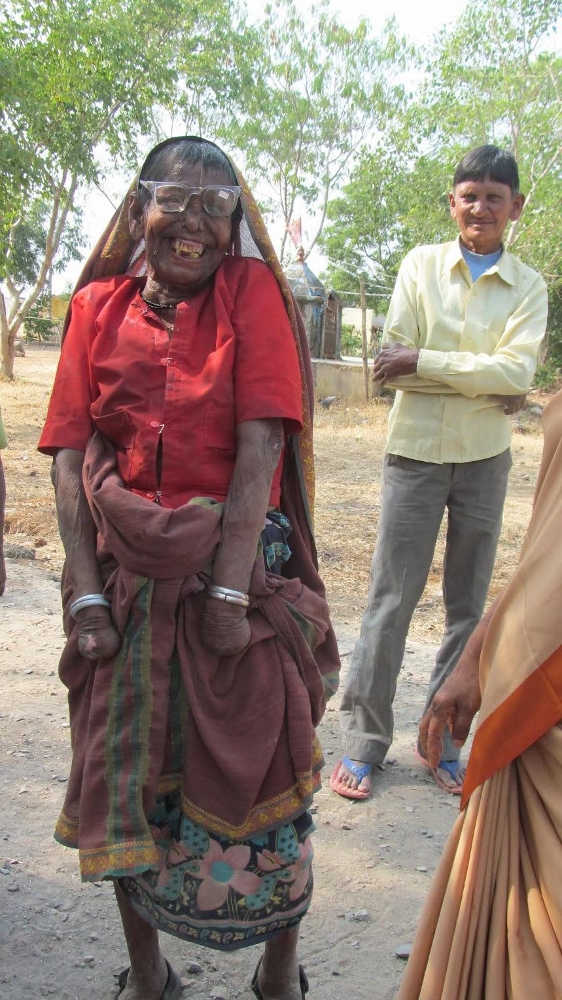 Sundari Bai (Gundeli Bai), left, is a resident of Harsh Nagar. (GSR photo / Saji Thomas)
Thundathil has seen to the mission for more than two decades.
The officer, however, is skeptical that it could continue without her. "There is nobody to look after them in her absence, even when she goes out for a day or two," he explains. "There is nobody to take up her task."
Contrary to Badole's view, the nun is confident the service will continue. "It's not my project. It's God mission, and it will continue even after me," she says.
Other sisters in her congregation will take up the task after her because the mission is unique, Thundathil says.
Everyone in the enclave has stories of rejection by loved ones.
One resident, Sumaria Ganga Ram, says his family not only ostracized him, but performed last rites over him, considering him as good as dead. According to Hindu tradition, the last rites liberate the soul of the deceased from this earth.
Ganga Ram, 60, told GSR: "I lived happily with my wife and three children, but when I was detected with leprosy, they chased me away from my home."
He owned 5 acres of land in a remote village. The illiterate farmer recalls that his family members stopped serving him food and water, eventually forcing him to leave the home.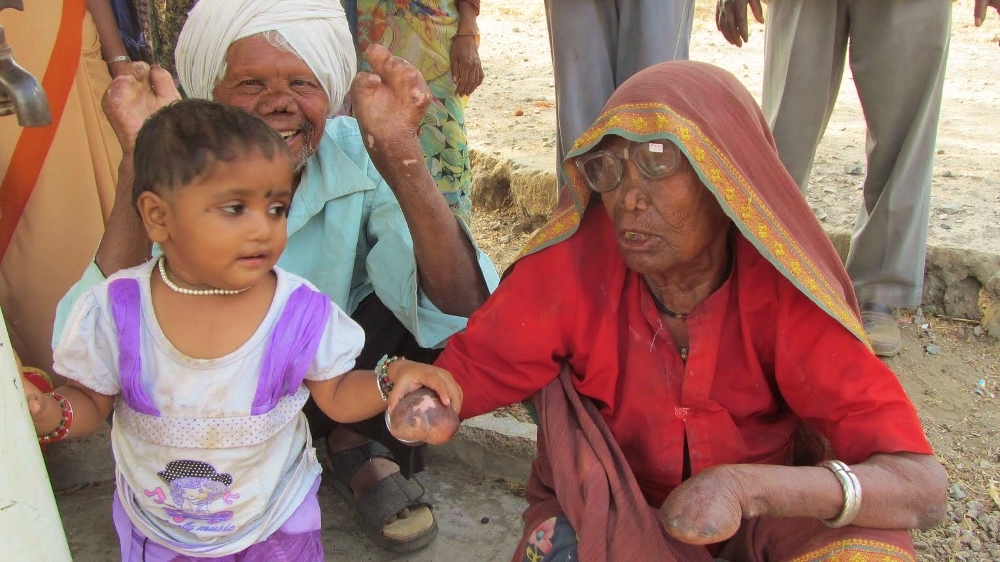 A child of a leper couple holds the hand of Sundari Bai (GSR photo / Saji Thomas)
"I lived on begging for five years until I met Ma," he says. Even begging was not easy for him. "I had to hide my wounds, otherwise no one would come near me to offer alms." Even hospitals chased him when he went to them for treatment.
"I am happy here and never want to go back to my family, which abandoned me when I need them the most."
Thundathil says many people dump their leprosy-infected relatives outside the enclave at night.
One such person is Shanti Bai, a mother of five children. The 65-year-old woman (not related to Sundari Bai) said her family members dropped her off outside the enclave 21 years ago. However, she found Shiva Lova, a man who had a similar background, and married him and settled on the campus. The couple has a 19-year-old son, Chandar Singh, who is doing his course in ophthalmology in Andhra Pradesh, a state in southeastern India.
Thundathil says the trust encourages the residents to marry and lead a normal family life. The nun helps their children grow up like other children, providing education and skill development courses so they can eke out a living as adults.
"Every child born to them," she says, "is separated from the parents at the age of 5 and put into schools."
Since they cannot be admitted to nearby regular schools because of the social stigma, she sends the children to faraway places. Currently, 87 sons of leprosy victims are studying in a school managed by the Jacobite Syrian Christian Church in Itarsi, 215 miles northeast of Sendhwa. At least 33 girls are studying in Pune, the cultural capital of the western Indian state of Maharashtra, 264 miles south of Sendhwa.
The children are aged 6 to 18, and some, such as Dilip Arya, progress to work part time as teachers while attending the 12th grade.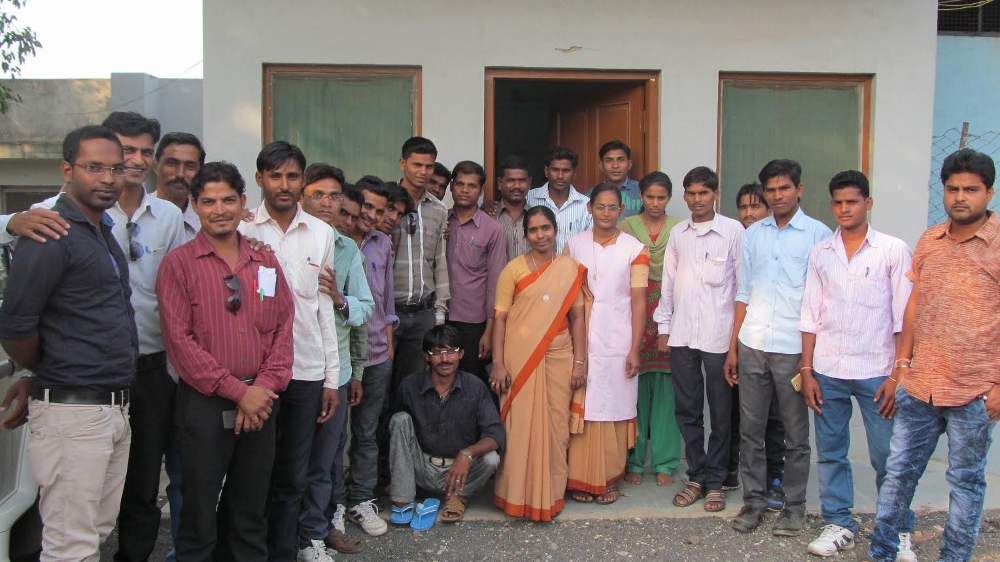 Sr. Julia Thundathil poses with members of self-help groups who care for disabled people at the St. Augustinian Social Service Society. (GSR photo / Saji Thomas)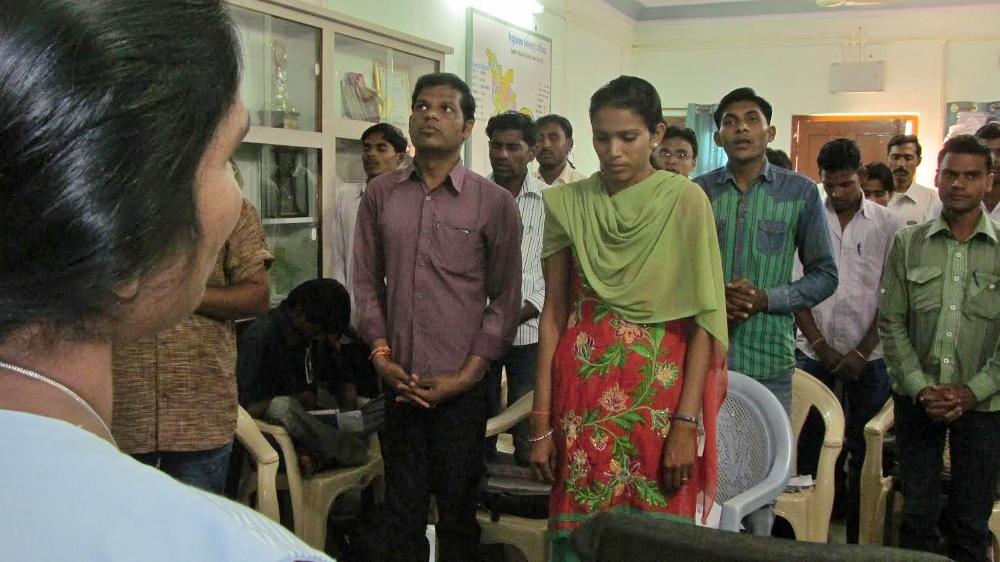 Sr. Julia Thundathil leads prayer before the meeting of caregivers in her office. (GSR photo / Saji Thomas)
"I have not told anyone in the school that I am the son of a leprosy couple," the 21-year-old youth told GSR. Asked why, he said, "The school management will not allow me to teach, and students also will not sit in my class."
He said he was studying in another school earlier and shared with some friends that he was the son of lepers. They stoned him and he had to be shifted to another school.
Thundathil bemoans that Indian society still cannot accept leprosy patients or their children, "despite the fact that it is a curable disease," she says. "People still look at them with contempt. It should change."
She blames ignorance and prejudice for such views, adding that her own attitude toward lepers changed only after she joined the convent.
The native of the southern state of Kerala joined the Order of St. Augustine after 10th grade in 1985 and made her first profession four years later. She took her final vows in July 1995.
Since she wanted to dedicate her life to social work, her first appointment was with the St. Augustine Social Service Society in Sendhwa. "At that time my concept of social service was restricted to visiting the poor, sick and aged," she says.
Later, in 1991 to 1994, she completed a bachelor's course in social work from Bombay University in Maharashtra (now Mumbai University). She also earned a master of social work degree in 2004 from Devi Ahilya University  in Indore, the commercial capital of Madhya Pradesh.
"This helped me understand that social work is not merely visiting people but transforming the lives of the poor, sick and needy." She then rejoined the congregation's social work department and started working among the poor.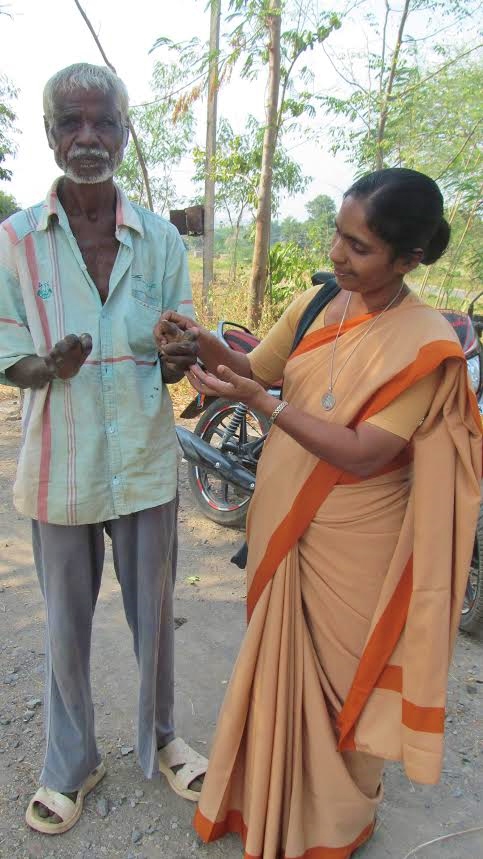 Sr. Julia Thundathil with Shiv Lova, a leprosy patient in Harsha Nagar. (GSR photo / Saji Thomas)
She met the six lepers during one of those visits. "Until then I was not much aware of the plight of lepers," she recalls.
She had her share of hardships on her way to this stage. Initially, the congregation – used to more traditional ways – was not enthusiastic about her mission. But they learned to value her work and appreciate her.
In 2000, she was struck with breast cancer at the peak of her activities. The disease was detected at the critical third stage and she underwent immediate surgery. "I still have pain in the body as fallout from the operation," she says.
The disease prompted her to expand her work, and she began working with differently abled persons.
A survey she conducted in the district a few years ago revealed that about 20,000 people among a population of 1.4 million were disabled.
The nun has formed a network of self-help groups whose members visit the homes of disabled people and counsel their families to accept them as a blessing rather than a curse. She appointed one caretaker for each family who would help build their self-esteem. These self-managed groups are composed of poor community people helping themselves out of adverse circumstances through financial planning under the guidance of experienced volunteers.
More than 150 self-help groups have been set up to assist 1,800 people with disabilities. "Work is in progress to link the entire 20,000 disabled under one umbrella," says Sr. Navya Thomas, an Augustinian nun who assists Thundathil in her ministry.
"We have also formed a Disabled Persons Organization to bring together every differently abled person and educate them about their rights and responsibility. They will get special training for livelihood projects so that they don't have to rely on the mercy of others," says Thomas.
About 1,800 disabled persons have been trained so far in tailoring, weaving, and spice and clothing production. Each person earns an average of 300 rupees (about U.S. $4.50) every day. "This gives them confidence and hope to lead a dignified life," Thomas says.
Thomas reports that Thundathil recently led the congregation to launch community health intervention and HIV/AIDS screening, awareness and control programs.
"We also work among the tuberculosis patients in this backward tribal-dominated district," Thomas adds.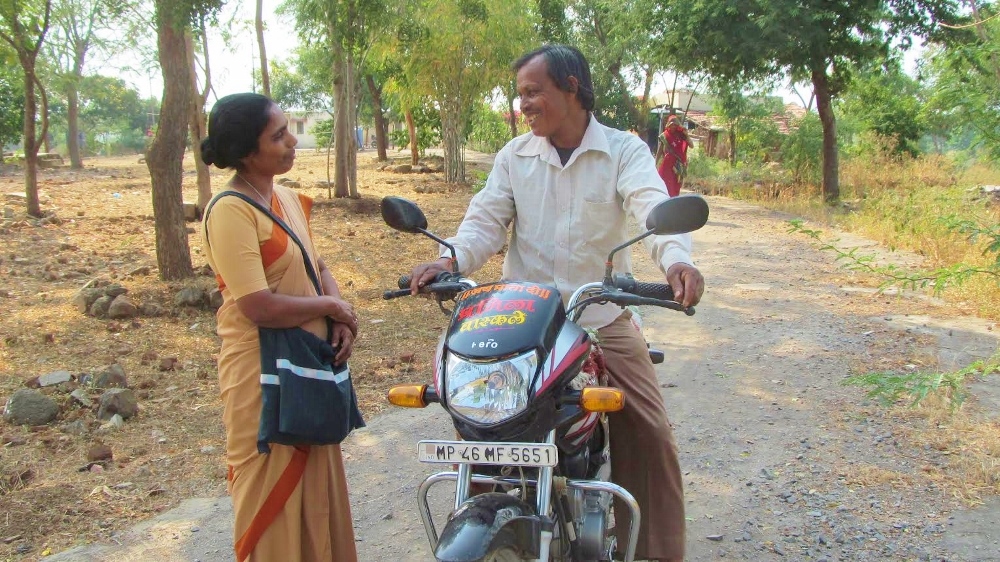 Sr. Julia Thundathil chats on the road with one of her volunteers. (GSR photo / Saji Thomas)
[Saji Thomas is a freelance journalist based in Bhopal, a central Indian city. He has worked for several mainstream newspapers such as The Times of India. This article is part of a collaboration between GSR and Matters India, a news portal started in March 2013 to focus on religious and social issues in India.]