Good coffee. A walk in the bush. A catechism class for sixth-graders.
But also prayer, parish visits and cherished time spent in community.
In this month's installment of GSR's feature about the unique, challenging and very specific lives of women religious around the world, our panelists write about renewal and rejuvenation on a day unlike most others. The Life asks:
How do you spend Sundays?
______
Sarah Puls was a social worker before becoming a Sister of the Good Samaritan in Australia. She currently works with asylum seekers and refugees as a caseworker.
My favorite way to spend a Sunday is to go for a long bushwalk.
If I set out early, I am surrounded and uplifted by the early morning bird song of the Australian bush. The bushland where I walk most often is the land of the Dharawal people, who cared for and nurtured the area for many thousands of years. Currently, it is the home of a retreat house, a religious community, a farm and bush regeneration areas.
In the bushland, the characteristic eucalyptuses include tall gums with pale trunks and gray-green leaves, and shorter trees with bark that is dark and rough and makes you wonder if it met a bushfire in recent years. Wildflower blooms, including flannel flowers and local violets, come and go as the year progresses, and if I am away too many weeks in a row, I wonder about what blooms I will have missed through my absence.
Going walking in the bush allows me the physical grace of knowing my strength and energy and rejoicing in my freedom and in the gift that it is to be present with these plant and animal neighbors who speak through their beauty and their gentle song.
There is a native grevillea bush that grows on the plateau near to the river and prompts me to reflect on the way it protects its seedpods. The grevillea bush is a scratchy and forbidding plant, with glorious grevillea flowers and thin branches covered in spikes that poke aggressively at human skin. The seedpods grow hard and strong to the size of an olive before splitting dramatically in half to allow two or three small, confetti-like seeds to float away on the breeze.
Walking in the bush, holding a split and empty seedpod, marveling at the way it so determinedly and effectively protects what is growing within, I feel echoes of my own experience of God and I feel that I am held safe and protected. 
Traipsing through the bush among the gum trees, smelling the sweet eucalyptus in the air, my spirit is rested and renewed. I know myself to be safe and loved, and I give thanks and pray that the grace of that knowledge sustains me as I am called to be neighbor in my ministry with people in trauma. I pray that they too may know themselves to be safe, loved and protected.
______
Filipina Sr. Eden Panganiban is a member of the Missionary Sisters Servants of the Holy Spirit who has served in leadership positions since 1989.
Sunday is a special day, more so now after decades of active missionary service. Just like the parable of the sower in a recent Sunday Gospel reading: "But when the sun rose, they were scorched; and since they had no root, they withered away" (Matthew 13:6).
I need to grow my roots deeper into the soil. This means a time for self-care, rooted in three movements: solitude with God, communion in community, and communion with ordinary people outside my work milieu.
There is ever that unquenchable thirst for God that only a moment of solitude could slake. And there is the gift of community where and with whom quality time could be spent in prayer together, in meals, and in recreation. And there are always people to engage with in informal conversation about things that matter most to them. I need only to open the eyes of my heart. These are opportunities for me to let my roots grow deeper into the soil of God's love and mission. And as I age, the need for this threefold communion becomes more pronounced.
These three movements make Sunday truly special. If the demands of mission allow it, then I do not exchange such a Sunday for anything else. The activities may look very ordinary. Yet the ordinariness hides my secret for inexhaustible energies for mission, for living, loving, serving.
______
Janet Gildea is a Sister of Charity of Cincinnati. A retired family physician, she is liaison for women religious for the Diocese of El Paso, Texas, and directs women in initial formation for the Sisters of Charity. 
Sundays are for homemaking in my local community. As on most days, I rise early, but on Sundays I can enjoy several cups of coffee at leisure while one by one the others in the house drift in. I find that this is some of our best conversation time and it's when we do some of our best dreaming and visioning. We talk about what's going on in the world, in the congregation and in our personal lives, and we wonder together where it all is leading us.
Many Sundays, we are blessed to celebrate Eucharist in our own house chapel. We take our time with the liturgy, sharing our reflections on the readings and receiving the body of Christ that we believe we become at our small altar and around the world.
After a leisurely breakfast with more coffee, we all spend time on the tasks that have to wait for the weekend. Yardwork, laundry, thank-you notes for donations — not exactly a "Sabbath rest" but satisfying and no other time to do them. Because I live far from family and most of the rest of the congregation, Sundays are also a time to make phone calls to check in. I spread those out during the day, along with breaks for email and Facebook.
Sometimes we have a special reflection time on Sundays, connected to our life as a formation community or a topic the congregation is considering. We always include a calendar update, which is necessary not just for our own comings and goings but for the many guests we receive as part of our commitment to radical hospitality.
Sundays also usually include some leisure time watching seasonal sports that some of us enjoy and others just tolerate. The same is true for other programs — except maybe "Call the Midwife"! For me, it's all part of the give and take that makes community life a home.
______
Florence Nwaonuma is a member of the Sisters of the Sacred Heart of Jesus. She has served as president of the Nigeria Conference of Women Religious.
My parents taught my siblings and me that Sundays are holy days of obligation and we kept them as such. That meant no work on Sundays and no business making money on that day. It is a day we worship God in a special and unique way, a day of prayer and rest. It was a day of relaxation and fraternizing with extended family members and friends, a day to do good works, to attend catechism classes, Legion of Mary and Block Rosary activities. We began Sundays in my family with prayers led by my father and my mother; sometimes they would ask one of us children to lead.
The way my congregation sees and observes Sundays is not too different from what my parents taught me; what is different is the approach. In my immediate religious community, we see Sundays as sacrosanct, no servile work except for those among us who are in special duties, for example, sisters in the medical profession and those who work with children in boarding schools.
On Sundays, I join the other members of my community to pray. We start our prayers in the morning with the adoration of the Blessed Sacrament followed by the Lauds. After prayers, we go for Mass and sometimes I assist the priest distributing Communion in my parish. Later in the day, I visit some friends who may be sick or celebrating one thing or another. At other times, I visit a prison or an orphanage or the home for elderly women. This visitation is not every Sunday. Sometimes, too, I receive visitors in the community.
In the evening, I teach a catechism class for first Communion and confirmation. Some Sundays, I work with the youth in my parish to help them prepare for their programs, especially Youth Week; at other times, we discuss some church documents or address any questions they might have. There are some parish activities that I take part in, for example, Marian devotional prayers in the months of May and October. After Vespers, I prepare for the following working week ahead of me.
______
María de Lourdes López Munguía is a Franciscan Missionary of Mary from Mexico who now lives in Chile. She is a psychologist and entered religious life in 2001. 
"The happiest days are those that make us wise."
—Gabriela Mistral
I wake up early with my heart exposed before God, who loves me deeply, with this God who holds me in his/her hands. This encounter at dawn, often without words, gives me a profound intimacy. On Sundays, I have a more relaxed time to live fully this encounter — time to gather what I have lived in the week, time to embrace pain and joy, time to look back at the horizon and discover that in front of me is the dream of God.
In my sneakers, I go to Cerro San Cristobál in Santiago to run, mostly because the silence gives me the gift of being in me and with me — and also a little bit because going to the hill reconnects me with Mother Earth, the Pachamama, who feeds me and fills me once more with her creative energy, who generates hope. I enjoy seeing people running, cycling, families who go to the hill simply to spend a day together. The climb also shows me the pollution on the horizon and the Cordillera de los Andes, which at this time is dressed in snow.
Later on, I share the Eucharist with women in prison. Every time I go there, I live a moment of great life, contemplating the grace of God in the midst of those whom society has decided to discard.
I like Sundays, with space to not rush, but to enjoy the gift of being present.
In the afternoon, we meet as a community, we share the Word, we dare to listen and we risk revealing a little of ourselves to our sisters. The mystery of the community journey makes us sisters a little bit more each day.
Every day is a blessing, and lately I have come to realize that each instant is God's miracle.
______
Susan Kidd is a member of the Congregation of Notre Dame and is currently the campus minister of the University of Prince Edward Island in Canada.
As campus minister, we have Sunday Eucharist on campus at 6 p.m. during the academic year. Other weeks, I "church hop" around the diocese to see students and taste "regular" parish life — if there exists such a thing!
Four summers ago, I ended up in the parish church less than five minutes from my door. An announcement in the bulletin said the parish was looking for catechism teachers for grades three, four and six.
There were a few reasons why this announcement caught my eye:
In a previous life, I was a high school religion and gym teacher. And although it has been almost 15 years since those classroom days in Toronto, I missed those days. Grades three or four would not be my "thing" but I can offer to teach grade six.
I was on the diocese's catechetics committee and we were adopting a new program. It would not be a bad idea to have some firsthand experience with the program.
My Sunday mornings were mine. Eucharist was Sunday evening. Offering to teach could be good for many people of many levels.
Like I said, that was four years ago! How do I spend my Sunday? The morning is usually 30 minutes of looking at the manual to see what I can do, a five-minute walk to the neighborhood school and 45 minutes with anywhere from one to two to 12 to 15 sixth-grade students who often would rather be at hockey, ringette or gymnastics. Parents drop them off and return to gather their flock 45 minutes later.
We have just finished for the year so I asked the million-dollar question at our last class party: How was catechism this year? And then the billion-dollar bonus question: What did you learn?
There are now a handful of young people wandering around this diocese who had had fun and laughed, learned the Ten Commandments and really liked that I had no seating plan.
My job here is finished!
______
Immaculata Chukwunyere is a member of the Congregation of the Handmaids of the Holy Child Jesus. She was a headmistress and teacher in Nigeria and Kenya before moving to the U.S. in 1999 and now teaches high school English.
Growing up in Africa, in a staunch Christian home, I learned that Sunday is a holy day of obligation. Thus, a good Christian spends Sunday contemplating God and doing God's work. My Protestant father, who converted to Catholicism by marriage, and my Catholic mother, who refused to marry a Protestant unless he became a Catholic, ensured that we keep the holy day of the Lord holy by engaging in various church activities. Hence, as a child, my Sunday routine was morning prayers, Mass, Bible study, Benediction, night prayers.
These Sunday obligations sort of followed me into adulthood. Since I became a nun, Sunday has remained the day of the Lord, a day when I prioritize spiritual exercises and corporal works of mercy. Unlike weekdays and Saturdays, Sunday is my day of deeper and longer spiritual exercises that are unencumbered by work and house chores.
As in my younger years, I begin Sunday with morning prayers. But my prayers now are followed by meditations of 30 minutes or more, community breakfast, Mass, hospital visits to minister to the sick and helpless, Benediction, evening prayers, spiritual readings, dinner, and night prayers with my sisters in community. Additionally, I devote the first Sunday of the month to recollection and silent prayers before the Blessed Sacrament. Spent in this manner, my Sundays become days of physical and spiritual rejuvenation.
______
Joeyanna D'Souza is a member of the Congregation of the Daughters of St. Paul in India. She has worked with the Pauline Press, manages her community's internet and digital presence in India, and teaches catechism and theology.
I am presently doing my licentiate in moral theology and residing at the Sisters Hostel of the Vidyajyoti College of Theology (Vidyajyoti Niwas). So at the moment, on weekdays I spend time working on my research papers and my dissertation and in the library.
On the weekends, I go to our community, which is about 5 kilometers away. I have not committed myself to any ministry this year, as I take the weekend as a refresher and to relate with the sisters in prayer and fellowship. If there is any common ministry planned, I join in. Then on Monday, I go back to the college.
______
Helen Graham is a Maryknoll Sister and a native of Brooklyn, New York, who has lived in the Philippines for 50 years. At the Institute of Formation and Religious Studies in Quezon City, she teaches sacred Scripture and mentors students from across Asia, Africa and Latin America. 
When I return from the celebration of the liturgy, I normally spend time studying the responsorial psalm of the Sunday liturgy. Along with a concern for the poor and marginalized of our world, a concern that finds its origin in the Sinai Covenant's Ten Words, I place the responsorial psalm. It is also among the marginalized! How many yearly liturgical reading guides are available that simply omit the responsorial psalm altogether!
A liturgical reading guide without the responsorial psalm is practically useless for me. This psalm is the response of the community to the first reading, which is often (not often enough, however!) from the Scripture we share with our Jewish brothers and sisters (which for Christians is the Old Testament). It is important to me that I understand this response and that I pray it meaningfully. Often the sisters at the Religious of the Good Shepherd chapel, where I celebrate the liturgy, will chant the psalm either in English or in Tagalog. If the reader has a clear and resounding voice, it is possible for the community hear the words and to respond fittingly to the first reading via the psalm.
I teach a course in psalms and it is my practice to have the students study the psalm for the coming Sunday in paired study sessions (termed havrutah in Judaism), following a prepared guide sheet. They have been reciting these psalms daily in prayer without understanding what the words they are reciting mean, so they find these magnificent poetic pieces boring. This is especially true of students who come from various non-English speaking countries. Because of their study of these psalms, however, most of them fall in love with the psalms and find them significant for their own spiritual growth.
Images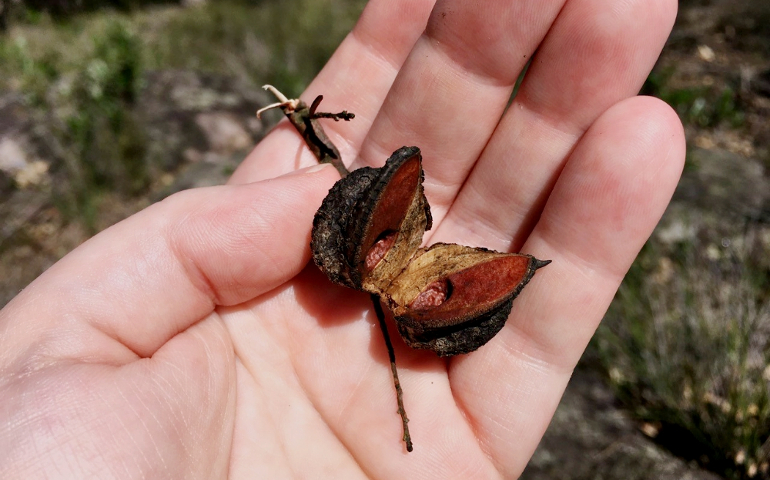 Sr. Sarah Puls holds a seedpod from a native grevillea bush. The pods grow hard and strong to the size of an olive before splitting in half so the seeds can float away in the wind. (Sarah Puls)