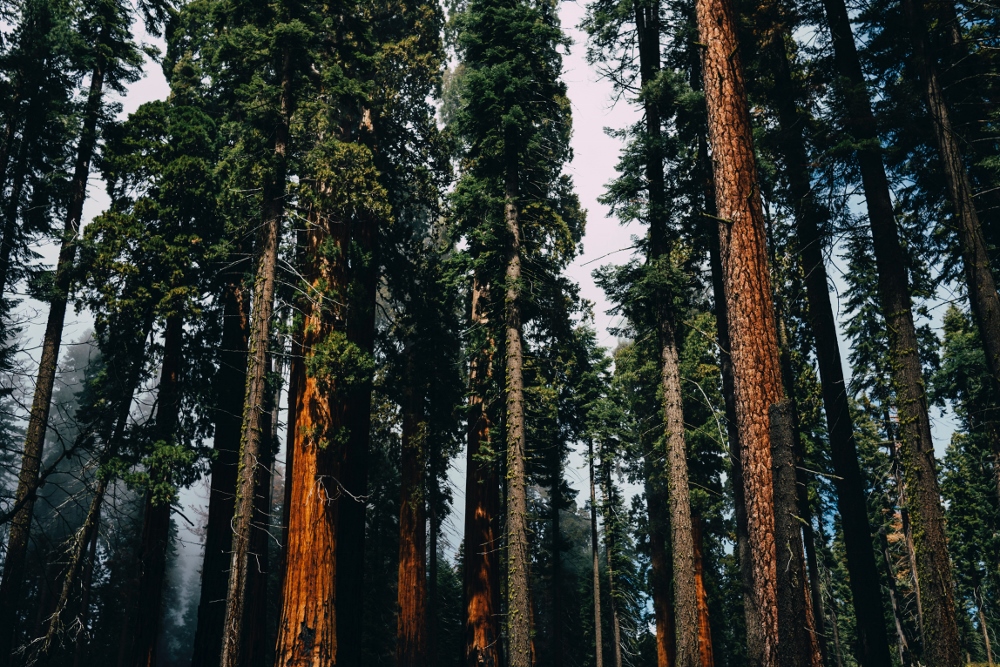 (Susan Yin, via Unsplash.com and used under Creative Commons zero)
The author and land activist, Terry Tempest Williams, in The Hour of Land has reminded us that President Abraham Lincoln created the National Parks as a way to help heal the nation after the Civil War would end. Williams' latest book highlights some aspects of this monumental gift to the American people.
In personal remarks shared in St. Louis, Missouri, she told a story that emboldens my heart. Sue Beatty, a restoration ecologist at Yosemite National Park, was taking her quiet walk through the big trees. It was early morning and she was alone, a special time to remind herself of the reasons she cared about these mammoth sequoia trees — more than 1,000 years old. Suddenly she was hearing voices whispering to her: "We are suffering, we're dying. We are starving!"
Then she realized it was the trees that were crying out for help, and her heart was deeply moved to action. When she returned to her desk Sue asked her boss to test the health of the trees by doing a scientific study of the root system of the Sequoias in Mariposa Grove. The scientists found that the root systems were being crushed by all the tourists, asphalt, trolleys and buses, and, indeed, the trees were dying.
A series of decisions led to the removal of asphalt, and closed Mariposa Grove to buses and tourists for two years while the root systems and ecological health of the area was being restored.
When the grove reopens in November, tourists will walk mulched, breathing pathways which allow rain to enliven the root systems of the giant sequoias.
Like Sue Beatty said, developing an inner silence and respect for nature enables us to "hear the cries of Mother Earth." The absence of this spirit is described by Thomas Berry who says: "We can no longer hear the voice of the rivers, the mountains, or the sea. The trees and meadows are no longer intimate modes of spirit presence. The world about us has become an 'it' rather than a 'thou.' "
His call to hear the cries of Mother Earth reminds me of the simple actions ordinary people are taking to care for our common home. Some of these include planting a pollinator garden, doing a controlled burn of land, or simply feeding hummingbirds. Thousands of gardeners and farmers are hearing the cries of Earth and responding with their own restoration efforts.
In the midst of the devastation caused by recent natural disasters I like to remember these positive actions of ecological restoration, as well as human renewal in the face of loss.
Even as we celebrate the positive commitment we see around us, there is still too much evidence of a desire on the part of some to destroy the fragile ecosystems surrounding us. Being at Standing Rock with our Native sisters and brothers or with other groups trying to preserve our Earth is the Great Work before us that Berry writes about.
Perhaps one of the most urgent issues is climate change. The evidence is continually before us on the news, and in scholarly work like that described in the recent acceptance of a national climate study by 13 federal agencies.
One meteorologist recently mentioned that the International Olympic Committee commented that there might not be a city on the planet cool enough to host the Summer Olympics in 12 years.
As Al Gore has noted in his new movie, "An Inconvenient Sequel," there are millions of groups throughout the planet working for alternate sources of energy and other "green initiatives." One example is Pope Francis who has added another corporal work of mercy that underlines our need to care for our common home. His joint efforts with Patriarch Bartholomew, the Green Patriarch, to establish a new liturgical cycle, The Season of Creation, is also focusing on the creative change needed if we are to find our place, as he says, "in the splendid communion of creation."
However, these signs of hope are not enough to keep me from feelings of despair as I watch our democracy under siege, our violent rhetoric unleashing the worst in the American character, and racism spilling over into every aspect of our lives. What conversion of heart will prompt new ways of responding?
Living on the edge of self-doubt, I recognize my need for an inner "climate change." I want to focus on what is positive in the millions of projects worldwide to save and strengthen the fragile ecology of our planet. I want to recall rescue efforts in the South and elsewhere that show the blended beauty of racial harmony reaching out to one another.
The renewable energy of humor is also a source of hope. When medics arrived to help deliver a baby girl during hurricane Irma, one of the male "midwives" jokingly asked if she was going to name her "Irma." "No," she assured them. "Her name is 'April.' " Or perhaps we could recall Otis, a dog who carried his own supply of dog food in a bag, looking for dry land.
There are renewable sources of energy within my own psyche. If I don't tap into hope and humor I move into despair. However, if I walk outside and listen in the silence of an early morning fog slowly sifting her way from the river to my front yard, I sense deep healing and peace.
I decide to turn off the news, to stop watching my favorite female journalist (Rachel Maddow), to pause in my prayers for her safety and that of so many others who are risking their lives to shape our democracy at this critical time.
Simply saying "no" to more news for a while feels like letting my own Mariposa Grove take time to heal. Sometimes like the sequoias I need to let go of traffic, noise, news, and let Mother Earth hold my broken heart and teach me to breathe again.
My decision to let the gentleness of fall lure me into gratitude is one mode of "inner climate change" I desperately need to cultivate at this critical time. This is my spiritual/personal source of "renewable energy" waiting to be tapped.
As I connect with this inner resource I will also pray for our country, hoping that the words of President Abraham Lincoln may help us heal as a nation. As he stated in his Gettysburg Address:
"Now we are engaged in a great civil war, testing whether that nation, or any nation so conceived and so dedicated, can long endure. … It is rather for us to be here dedicated to the great task remaining before us … that this nation, under God, shall have a new birth of freedom — and that government of the people, by the people, for the people, shall not perish from the earth."
[Judith Best is a School Sister of Notre Dame and coordinator of SturdyRoots.org. She gives presentations on the heritage of the School Sisters of Notre Dame and is also exploring evolution as the bridge between science and religion.]