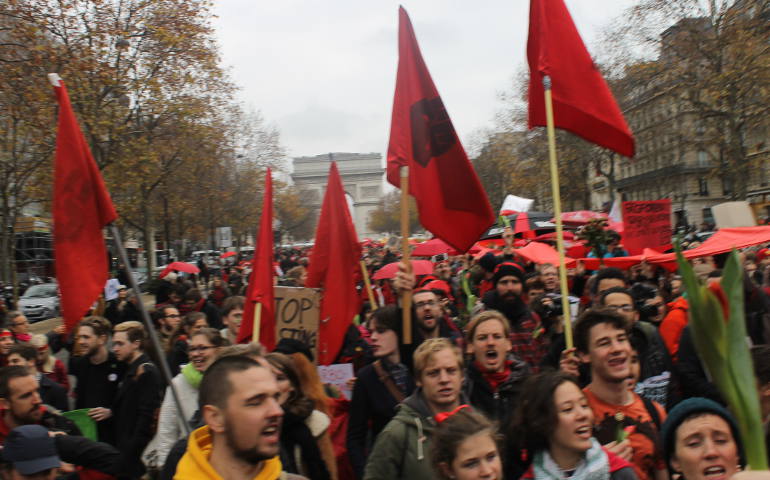 Thousands assembled along the Avenue de lad Grande Armee in Paris Dec. 12 hours before 195 nations adopted the Paris Agreement, which provides a framework for global climate action. (NCR photo / Brian Roewe)
Paris, France — World leaders here Saturday evening, Dec. 12,  reached the first-ever globally binding deal to address climate change, concluding two weeks of the "most complicated and difficult," and, at times sleepless, negotiations among nearly 200 nations.
Catholic activists said the Paris Agreement marks "the end of the fossil fuel era" and provides a roadmap for the next several decades, but at the same time still "lacks ambition" in terms of providing necessary protection for the most vulnerable from climate impacts.
The United Nations climate change conference in Paris, or COP21, was set as a type of second-chance after a similar effort six years ago in Copenhagen failed to procure a binding deal. U.N. Secretary-General Ban Ki-moon told journalists Friday the talks have been the "most complicated, most difficult" he has attended.
As diplomats reviewed the text line by line Saturday, thousands of people formed their own red lines across Paris in demonstrations aimed at symbolizing their resolve to not quit pushing for ambitious action on climate change.