World leaders gathered Friday, April 22 at the United Nations to sign the landmark Paris Agreement that environmental activists and advocates, including Catholic sisters, hope can be a catalyst in reversing the effects of climate change.
"Record global temperatures. Record ice loss. Record carbon levels in the atmosphere. We are in a race against time," United Nations Secretary-General Ban Ki-moon, quoted by the U.N. News Service, said in his remarks to heads of state, ambassadors and activists who attended the Earth Day ceremony at the U.N.'s General Assembly Hall.
"[Today] is a day to mark and to celebrate the hard work done by so many to win the battle of securing the Paris agreement," U.S. Secretary of State John Kerry said about the agreement that 196 nations in negotiations in Paris in late 2015 pledged to support. "But knowing what we know, this is also a day to recommit ourselves to actually win this war."
Among those lauding the day's event was Ursuline Sr. Michele Morek, the coordinator of UNANIMA, a U.N.-based coalition of Catholic congregations focused on concerns of women and children.
"It's a huge start. It's a big opportunity. The symbolic importance is wonderful," said Morek, who was in Paris in late 2015 during the international negotiations that led to the Paris Agreement.
Morek, a biologist by training, attended the Friday ceremony, and acknowledged that the document is not perfect. Though it sets a goal of trying to limit the overall increase of global temperature to below 2 degrees (while aiming to go even further, to keeping it below 1.5 degrees Celius), the agreement is premised on goals and promises — not on legal mechanisms.
Yet, Morek sees hope that nearly 196 countries pledged to sign the agreement — more than 170 said they would sign it Friday, a first-day record for a United Nations document — and that there is increased recognition that the U.N.'s Sustainable Development Goals to end poverty and other global challenges are now tied to efforts to fight climate change.
"They're all of a piece," Morek told GSR in an interview after the formal U.N. ceremony. "They're all intertwined."
Sr. Áine O'Connor, U.N. coordinator of Mercy Global Action, a ministry of the Sisters of Mercy and the Mercy International Association, said that the Earth Day event at the UN is best seen as an opportunity to reflect on the broader meaning of environmental action today.
"We have new clarity," O'Connor said in an interview. "We're insisting on action that links climate and science." She added: "We hear a voice that is strong — a cry deeply rooted in justice and that has real urgency."
O'Connor, who was also in Paris in late 2015, is a passionate believer both in the strength of grass-roots movements that are fighting for environmental action and justice and that the global community must accept the conclusion that fossil fuels are a dead end if climate change is to be reversed.
Embracing renewable energy sources and rejecting what she called "false solutions like fracking" are now important elements of needed change, O'Connor said.
"The transformation of the system is what is needed now," she said, adding that growing environmental awareness and activism are part of what is now pressuring governments as never before to act on behalf of the planet.
O'Connor hailed Pope Francis' environmental encyclical, Laudato Si', as an example of a "call of mercy" that has opened a door for honest discussion about environmental concerns and how they relate to politics and economics. "The door is open and we've crossed over, but we have to act now with real urgency," O'Connor said.
The writer and environmental activist Bill McKibben, O'Connor noted, said last year that continued and even expanded activism in coming years is needed "so that the Paris agreement turns into a floor and not a ceiling for action." That is a good way to view the agreement being signed at the U.N., O'Connor said, given the sense of urgency needed to deal with climate change and environmental damage globally. "We're in a state of world emergency," she said.
Both Morek and O'Connor said that a creation-based spirituality has often put Catholic sisters in the forefront front of environmental activism within the church. "Religious women have taken care of the earth as a ministry for years," Morek said.
Such ministry will be needed in coming years.
Citing the grim facts facing the planet — that 2015, for example, was the warmest year in recorded history — Kerry told those gathered at the UN on Friday that the urgency "of this challenge is only becoming more pronounced."
Kerry, signing the agreement for the United States, had his two-year-old granddaughter, Isabelle Dobbs-Higginson, sit in his lap — a visible symbol of the need to protect the environment for future generations.
In his remarks, actor Leonardo DiCaprio, who has worked in recent years as a U.N. representative on environmental and social issues, said, "Our planet cannot be saved unless we leave fossil fuels in the ground where they belong."
Echoing Sr. O'Connor's concerns, he said, "An upheaval and massive change is required now — one that leads to a new collective consciousness. A new collective evolution of the human race inspired and enabled by a sense of urgency from all of you."
After decades of international conferences and debates, DiCaprio added, "it is time to declare no more talk. No more excuses. No more 10-year studies. No more allowing the fossil fuel companies to manipulate and dictate the science and policies that affect our future. This is the only body that can do what is needed. You, sitting in this very hall. The world is now watching. You will either be lauded by future generations, or vilified by them."
[Chris Herlinger is GSR's international correspondent. His email address is cherlinger@ncronline.org.]
Related: Faith leaders applaud climate change document ahead of UN signing ceremony
Images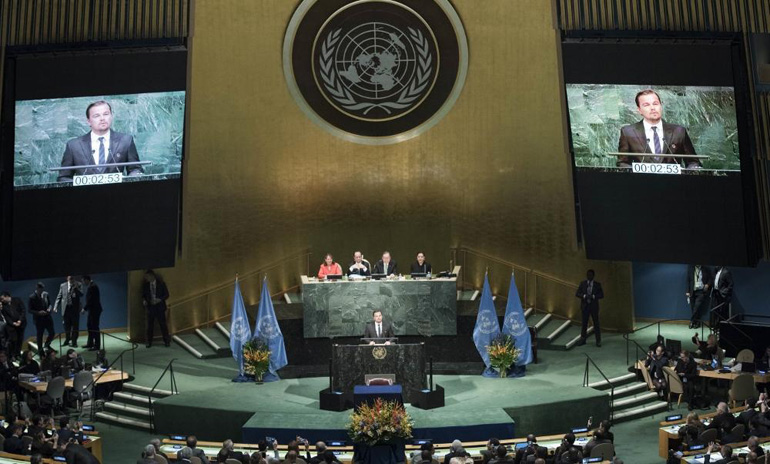 Secretary-General Ban Ki-moon hosted a signing ceremony for the Paris Agreement on Climate Change on 22 April at the United Nations. Messenger of Peace Leonardo Dicaprio addresses the opening segment of the signature ceremony. (United Nations photo)