Global Sisters Report is focusing a special series on mining and extractive industries and the women religious who work to limit damage and impact on people and the environment, through advocacy, action and policy. Pope Francis last year called for the entire mining sector to undergo "a radical paradigm change." Sisters are on the front lines to help effect that change.
______
The quiet corridors of the Church Center for the United Nations, a 12-story building across from U.N. headquarters in New York City, are thousands of miles away from rock-strewn chasms and polluted waterways that characterize so many of the world's mining operations. But Sr. Áine O'Connor and her colleagues feel a connection with sisters and others working to help communities affected by companies seeking silver, gold, copper, coal, zinc and other commodities.
O'Connor and her colleagues who work at the United Nations see a multifront approach in tackling mining — or extractive — issues. As nongovernmental organizations acting in a "consultative status" with the U.N., their role is to bring pressure at the top, working with governments and companies to abide by international standards on environment, safety and health issues. They also want to raise the issue as an international concern, and there is no better place to do that than at the United Nations.
But their activism is also connected with sisters and others who are working with the local communities that mining directly affects. In recent years, protests against mining operations have become increasingly visible throughout the world, from the Peruvian mountains to the hills of Appalachia.
Catholic sisters are among those focusing on the ramifications of mining and other extractive industries. The Loretto Sisters, whose motherhouse is in Nerinx, Kentucky, have joined other groups in protests against mountaintop mining. In Australia, Sisters of Mercy are adding their voices about the coal seam gas industry, operations that extract natural gas from coal deposits.
In India, Sr. Valsa John, a member of the Sisters of Charity of Jesus and Mary and an outspoken critic of mining operations in the eastern state of Jharkand, was killed in November 2011 in an attempt to silence her, fellow indigenous rights activists say. India's Roman Catholic hierarchy spoke out about her death.
At the United Nations, meanwhile, "the voice of Catholic religious are raising the issue as we connect the problems of extraction, climate change and other challenges," said O'Connor, who coordinates the U.N. work of the Sisters of Mercy and the Mercy International Association.
Colleague Amanda Lyons, advocacy officer for Franciscans International, said the foundational questions about mining include: "Does it do harm? Does it serve the common good? Who bears the burdens and who reaps the benefits? How does it affect the health, water, farming and safety of communities and regions nearby?"
The Sisters of Mercy and the Franciscans are members of a coalition of nongovernmental organizations, most of them religious and with robust representation from Catholic sisters, nearly 20 in all, that works under the title NGO Mining Working Group.
The working group, which is allied with local grass-roots organizations throughout the world, is an advocacy coalition. It supports human and environmental rights in the wake of what O'Connor and her colleagues call "the extractive industries."
O'Connor said the group meets at least once a month, either at the U.N. or at Church Center for the United Nations, the base of a number of faith-based organizations working at the U.N.
Advocacy work of this sort focuses on analysis and the development of advocacy positions and documents. Some of this is done in formal meetings, some of it is done in ad hoc sessions, and much of it is done electronically.
"When an official U.N. meeting is in session that we are actively following and doing our advocacy, we meet a couple of days prior to the particular meeting, then we caucus the morning of the meeting, at the middle and at the end of the day," O'Connor said. "During these times, we are making the plan, acting on the plan, then reviewing and revising our advocacy strategy based on that day's outcome. A few times, with the U.N. member states, we have spent all night at the U.N. following critical sessions, especially around the human right to water and sanitation."
Guiding the coalition's current advocacy is pressing the U.N. to a rights-based model of sustainable development. That means respect for civil, cultural, economic, political and social rights must be the foundation for governmental policies in the future and that actions should be aligned with long-term sustainability of natural resources.
In September, U.N. member states agreed to 17 new sustainable development goals for the good of "people, planet and prosperity." This followed the development in 2000 of the Millennium Development Goals by the U.N. that established targets to help eradicate poverty and other problems by 2015.
This new agenda also calls for "economic, social and technological progress" that "occurs in harmony with nature."
This U.N. 2030 Agenda for Sustainable Development is nonbinding; that is, it is not a formal treaty. But it is now up to advocacy groups and coalitions like the NGO Mining Working Group and local grass-roots organizations to keep applying pressure on governments for the cause of human rights and environmental protections.
Why focus on mining, or extraction? Local grass-roots organizations say the extractive industries have done great harm and violated human rights in the name of "development." The extractive model of development, the coalition argues, has damaged the Earth, causing water contamination, the disruption of affected communities, the loss of livelihoods for small-scale farmers, and the displacement of communities. In addition, the coalition says, this model of development has also has led to armed conflict and violence as well as the criminalization and persecution of movements that oppose mining.
The NGO Mining Working Group has developed what it calls a "rights-based litmus test" to assess whether instances of "natural resource extraction" can fit into a sustainable model. The four principles of the proposed test:
• Do no harm: Can mining or other extractive activities be carried out without violating human rights?
• Eradicate root causes of poverty: Does the mining or other extractive activity contribute to eradicating poverty, and are human rights respected and even increased as a result?
• People as rights-holders: Can affected communities participate in a process of assessing the effects of mining?
• Sustainability: What are the effects of potential mining activity both in the short and long term?
In a recent interview with GSR, O'Connor, Lyons and their colleague, Sr. Angela Reed, also affiliated with Sisters of Mercy and Mercy International Association, said they realize these are high and demanding bars that are being set. But "people are beginning to connect the dots" between extraction and mining and social ills, Reed said.
With its high concentration of mineral resources, Latin America — and South America in particular — has been a focus of increasing activism about the effects of extractive industries. And the Catholic church is taking an increasingly high-profile role on the issue.
"It's a topic of concern for us because it's a topic of concern in Latin America," said Richard Coll, foreign policy adviser on Latin America and global trade for the U.S. Conference of Catholic Bishops, in a recent interview.
Coll said companies come into communities "painting a rosy scenario about jobs and income," yet the benefits often prove minimal or elusive. Labor is often imported, and few local taxes are ultimately paid.
"Very little trickles down, and it's often easy for the companies to walk away," he said.
One reason mining is becoming an issue of increasing concern is that its impacts are being felt in greater ways because of technological advancements and larger equipment, Coll said.
"Larger equipment can move more earth," he said.
He said investors in companies that do the mining "would be shocked" by some of the impacts extractive industries have, but the issue has not received "the attention it deserves."
Coll praised the Vatican for making the issue a recent focus, saying concerns that Pope Francis raised have been a "coherent part of his message on the environment and the unrestricted role of markets."
In their work, the sisters and their supporters make the same point. They have an important ally in the pope.
"This is 'Gospel time' — to be in this struggle — and Pope Francis has given us an opportunity to be very public about this," O'Connor said.
The pope sent a message of support to communities affected by mining during a Vatican meeting in July organized by the Pontifical Council for Justice and Peace and a global grass-roots network called "Churches and Mining."
The pope urged the mining industry to change the way it works, citing "negative consequences" that includes pollution, land grabs, wealth that is not shared with local populations that remain impoverished, and violence and corruption that often occurs in communities where mining is prevalent.
Francis also warned against poor working conditions for miners, as well as human trafficking of women for sexual exploitation in mining communities. He also said mining often occurred without civil, local and national governmental bodies living up to their "fundamental duty to promote the common good."
Citing the pope's recent environmental encyclical, Laudato Si', Cardinal Peter Turkson, the pontifical council's president, said the church "cannot remain indifferent" to the cry of affected communities. He quoted a letter from a U.S. Catholic bishop, saying, "Some multinational mining operations are associated with 'calamitous public health and environmental consequences.' "
Among those testifying at the Vatican meeting were communities from Africa, Asia and Latin America, though the issue of extraction also weighs on communities in North America, which is dealing with the controversies surrounding fracking.
The conference was not a one-time event or one-time show of commitment to the issue by the Catholic church. One group focused on mining and extractive industries is the Integrity of Creation Working Group, which is part of the wider work of the Justice, Peace & Integrity Commission. The JPIC is part of the ongoing life and mission of both the Union of Superior Generals, known as USG, and the International Union of Superior Generals, known as UISG, and their member congregations, said Franciscan Sr. Sheila Kinsey, executive co-secretary of the JPIC Commission.
Among the Integrity of Creation Working Group's activities has been compiling a reflective study guide and resource on the impacts of mining. Among the resource's recommendations: Local communities "have a right to be consulted and heard in all natural resource exploration and development in their region." The study urged mining companies to adopt "policies that mandate that they obtain comprehensive local community consent," including free prior and informed consent, before "beginning any industry projects." Local communities, the study said, have a right to reject proposed projects.
The International Council on Mining & Metals, a coalition of 23 mining and metals companies and 34 national and regional mining associations publicly committed to responsible mining practices, "recognizes the important role that the Catholic church and Pope Francis have in engaging with society on issues that matter to them," said Tom Butler, CEO of the association.
Butler told GSR that ICMM "has been fortunate to have met with representatives within the Catholic church to discuss alternative viewpoints on the industry and how we can address some of the challenges. We have found this dialogue to be most constructive and a conversation that we wish to continue in order to reach better outcomes for all."
On the issue of mining itself, Butler said, "While a mine itself is a finite resource, as the NGO Mining Working Group has stated, our belief is that the economic contribution of a mine — whether through job creation, skills transfer, local content procurement, or taxes paid to central government — can be positively transformational for a host country. Our members strive to achieve that, and governments also need to play their role."
O'Connor and her colleagues say they have a cordial relationship with the ICMM but will remain vigilant in their efforts.
The sisters take a long view, which they acknowledge is needed at the United Nations because pitched arguments and debates can hinge on the language of documents.
Asked what constituted a success for her coalition, O'Connor said "sustained advocacy" helped ensure the recognition of water and sanitation as a human right in the declaration of the 2030 Agenda for Sustainable Development Goals.
To outsiders, language in a U.N. document may seem like a small victory. But for advocates like O'Connor, it has important symbolism and implications.
"For the NGO Mining Working Group and water justice advocates worldwide," she said, "the result is a critical step toward empowering peoples to claim their right while also providing a challenge to corporations and extractive industries that continue to abuse Earth's dwindling water resources."
[Chris Herlinger is GSR's international correspondent. His email address is cherlinger@ncronline.org.]
Images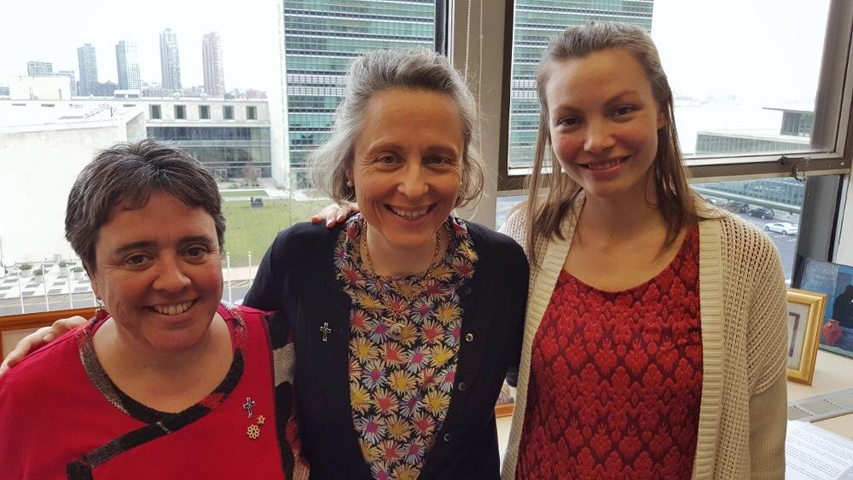 From left: Mercy Sr. Angela Reed, Sr. Áine O'Connor and Amanda Lyons, advocacy officer for Franciscans International, at the Mercy International Association office at the Church Center for the United Nations in New York. All three are involved in the work of the NGO Mining Working Group. (GSR/Chris Herlinger)