The Adorers of the Blood of Christ in Columbia, Pennsylvania, have been handed another legal defeat.
On Sept. 28, a district court judge dismissed the sisters' lawsuit that claimed the construction of a pipeline on their property was a violation of their religious freedom. In his ruling, Judge Jeffrey Schmehl said the Adorers failed to follow the proper procedure for making a claim under the Religious Freedoms Restoration Act and, even if they had followed the proper procedure, the District Court was not authorized to hear such a case.
In a statement sent to Global Sisters Report, the Adorers said they were "disappointed" with Schmehl's ruling and plan to appeal.
"At issue in this case is the Adorers' deeply held religious belief that the Earth is God's creation," they said. "The development of large-scale fracking operations and construction of new pipelines as proposed ... will only accelerate the damage to the Earth and cause great harm to all of God's creation. The poor and most vulnerable will experience the greatest harm."
This is the second time Schmehl has ruled against the sisters in regards to the Atlantic Sunrise pipeline, a $3 billion, 183-mile extension of a pipeline system currently running from Texas to New York.
In August, Schmehl granted Transco, the company building the pipeline, immediate access to the sisters' land after the company sued the Adorers to prevent them from building a chapel in the pipeline's planned pathway. Transco had already been granted a substantive right to possession of the sisters' land, but the chapel, built in July, was intended as a protest.
In his August ruling, Schmehl made it clear he did not think the Adorers had successfully argued that the construction of a fossil fuel pipeline on their land violated their religious freedom.
"[The] Adorers claim that they 'exercise their religious beliefs by, among other things, caring for and protecting the land they own,' and that their efforts to 'preserve the sacredness of God's Earth' are integral to the practice of their faith," he wrote. "However ... they have not presented one piece of evidence that demonstrates how their religious beliefs will be abridged in any way."
The Federal Energy Regulatory Commission approved Transco's plans for the Atlantic Sunrise extension in February 2017, the same month protesters against the Dakota Access Pipeline were forced to evacuate their camp at the Standing Rock Sioux Reservation in North Dakota.
In Pennsylvania, the regulatory commission's decision was met with swift opposition. The Adorers are one of an estimated 32 local landowners who refused to sell their land to Transco and its subsidiary, Williams.
Legal battles with these landowners have delayed pipeline construction. The original plan was to have the pipeline running for the upcoming winter season. Now, Transco says the construction will be complete by July 2018.
[Dawn Araujo-Hawkins is a Global Sisters Report staff writer. Her email address is daraujo@ncronline.org. Follow her on Twitter: @dawn_cherie.]
Images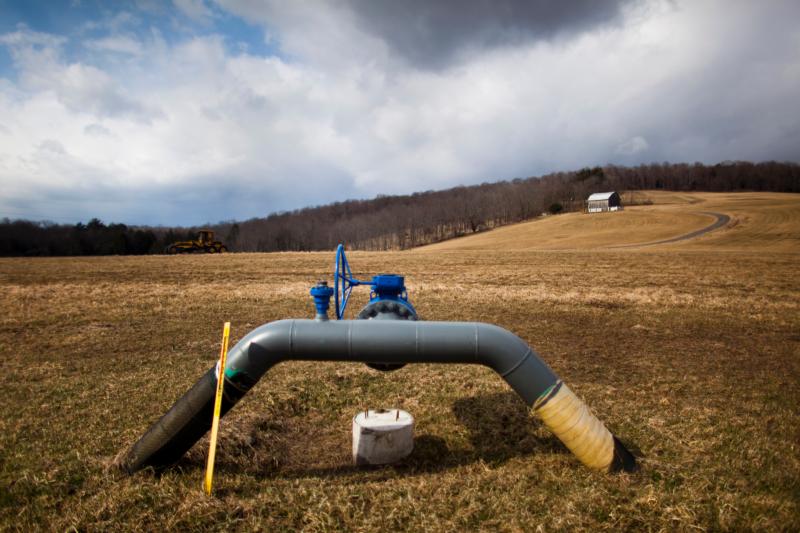 A gas pipeline juts from the ground at a farm near Dimock, Pa., in this 2012 file photo. Atlantic Sunrise is proposing to run a similar pipeline for natural gas through property owned by the Adorers of the Blood of Christ religious congregation in Columbia, Pa. (CNS/Jim Lo Scalzo, EPA)