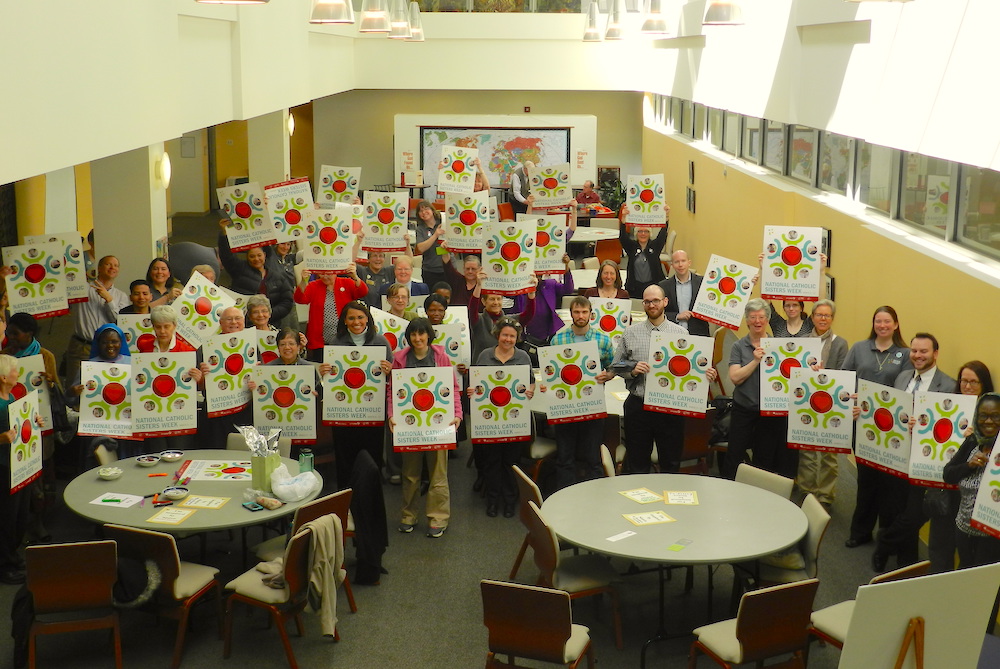 Catholic Theological Union in Chicago hosts a prayer service in the graduate school's atrium with Giving Voice, National Religious Vocation Conference and Communicators for Women Religious during the 2017 National Catholic Sisters Week. (Courtesy of the Benedictine Sisters of Chicago)
National Catholic Sisters Week is back — but with a new organizer, a new name and a new focus.
Now just called Catholic Sisters Week, the sixth annual celebration of Catholic women religious has more than 50 events planned, from small gatherings for pizza and prayer to a huge event at Catholic Theological Union sponsored by six organizations of sister-related groups. The week always begins March 8, International Women's Day, and runs through March 14.
The week, now organized by Communicators for Women Religious, is less about honoring sisters and more about honoring sisters' charisms and how we can share them, said Sr. Linda Romey, a Benedictine Sister of Erie, Pennsylvania, and the chair of the committee organizing the event. Communicators for Women Religious is a professional organization of personnel responsible for communications within Catholic religious congregations of women.
The group dropped the "national" from National Catholic Sisters Week because the group does have some international members.
"We're not trying to be international by any means, but we want to acknowledge we're not just the United States, either," Romey said.
The annual celebration had been part of the National Catholic Sisters Project, which was funded by the Conrad N. Hilton Foundation, which helps fund Communicators for Women Religious (and funds Global Sisters Report), but that grant ran out last year.
"CWR is a natural fit and we're grateful for their commitment to move National Catholic Sisters Week forward and build on the good work that's been done in the last six years," said Sr. Ann Oestreich, a member of the Sisters, Servants of the Immaculate Heart of Mary and national coordinator of the National Catholic Sisters Project, in a statement in September, when the change was announced. "We have great confidence in them and are excited for NCSW to develop a broader reach."
Romey said while the incredible accomplishments of women religious need to be honored, the question today is how laypeople are called to participate in those charisms.
"Our hope is that we can celebrate women religious, but also have an expanded, transformed understanding of their commitment, their passion, their charisms," she said. "How can we support them in new ways?"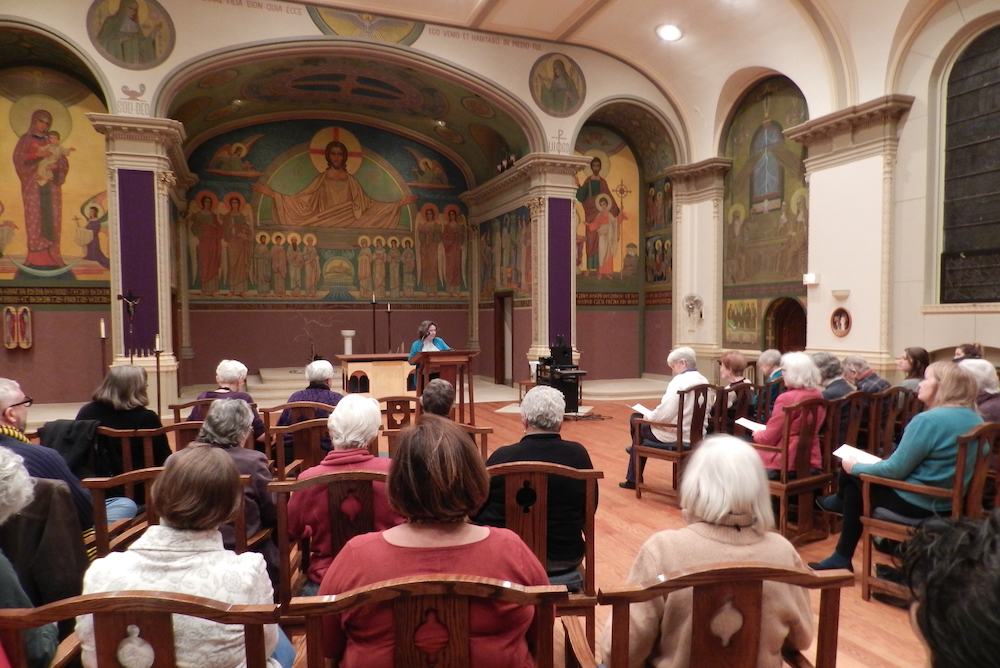 Benedictine Sr. Belinda Monahan, vocation minister for the Benedictine Sisters of Chicago, addresses the 2018 National Catholic Sisters Week event crowd before viewing the original film "Monasticism for the 21st Century," which features the Benedictine Sisters of Chicago. (Courtesy of the Benedictine Sisters of Chicago)
Part of the new vision, Romey said, is a recognition that more and more laypeople are being involved in the work of sisters through volunteer, oblate, associate and other programs. While they may not be called to vowed religious life, they may be called to the same ministry, she added.
"The ways we reach people have changed. The ways that we live our call has changed," she said. "So how can we share the traditions, share the charisms, and deepen the bonds? Certainly, we want to encourage young women to consider vowed religious life — that isn't going away — but there's a larger vision, too."
As always, dozens of Catholic Sisters Week events are planned, many of which are online so you can attend regardless of location.
The March 5 women's leadership breakfast in Fond du Lac, Wisconsin, hosted by the Congregation of Sisters of St. Agnes, features a keynote address from Katie Gordon, one of the national organizers of the Nuns and Nones movement, about how congregation foundresses can serve as an inspiration and model of sustainable activism.
Immediately after the breakfast, Gordon will facilitate a Nuns and Nones gathering between 10 nuns and 10 "nones," the first of its kind in Fond du Lac.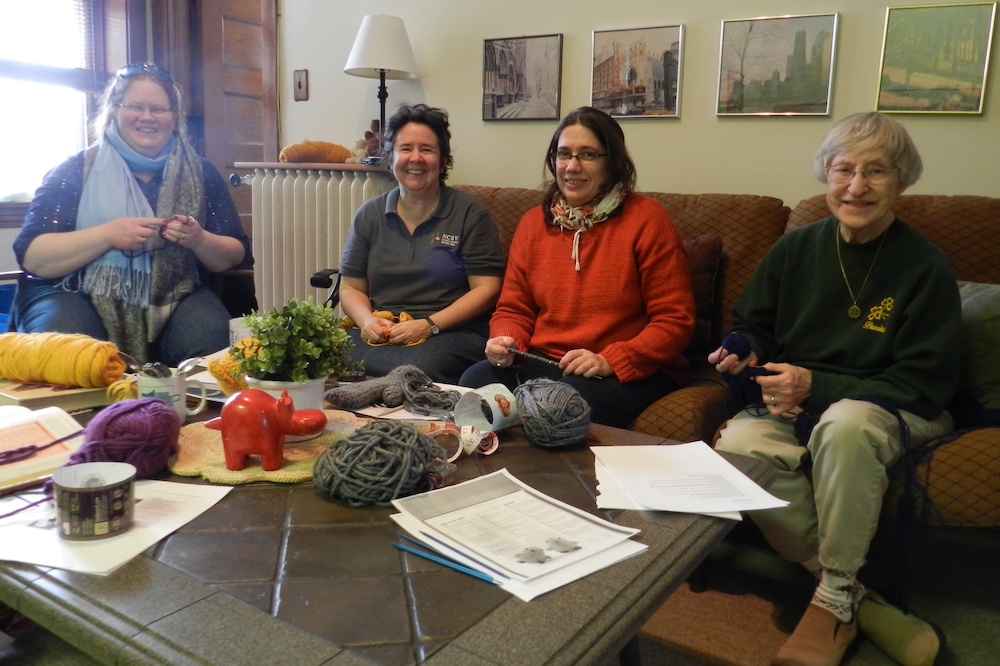 Benedictine Sr. Belinda Monahan, second from left, and Benedictine Sr. Benita Coffey, right, gather with guests for a National Catholic Sisters Week event of making knitted goods to donate to charity in 2017. (Courtesy of the Benedictine Sisters of Chicago)
The Sisters of St. Dominic of Blauvelt, New York, and the Dominican Sisters of Sparkill, New York, will host a March 11 Facebook Live interview, "A Candid Conversation About Religious Life Today," where they will answer questions about their vocation journeys and ministry experiences.
Ultimately, Romey said, organizers hope the events will help form a new kind of community between laypeople and sisters, where people from a multitude of backgrounds, experiences and roles in the church can support each other in their common call.
"I am excited about it," she said. "When you belong to a community, you have a safety net."
(Video courtesy of Communicators for Women Religious)
[Dan Stockman is national correspondent for Global Sisters Report. His email address is dstockman@ncronline.org. Follow him on Twitter or on Facebook.]