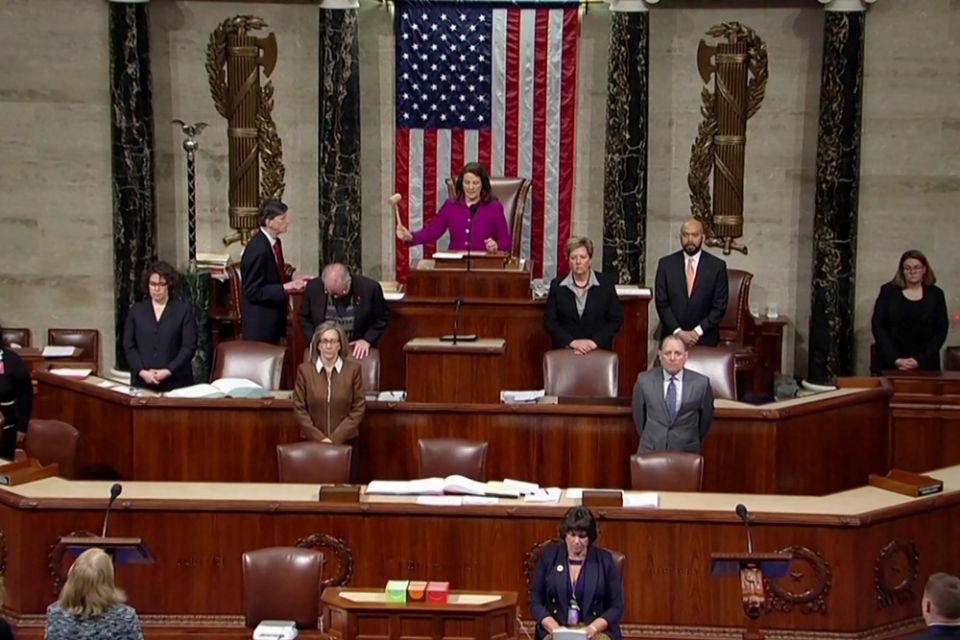 Rep. Diana DeGette, D-Colorado, pounds the gavel to open the session to discuss rules ahead a vote on two articles of impeachment against President Donald Trump on Capitol Hill in Washington Dec. 18. (CNS/House TV via Reuters)
A Catholic social justice lobbying organization announced support for the impeachment of President Donald Trump, just hours before the historic vote expected to make him the third president in U.S. history to have been impeached by the House of Representatives.
"This constitutional crisis is also a spiritual crisis," Social Service Sr. Simone Campbell, executive director of Network Lobby for Catholic Social Justice, said in a statement released Dec. 18. "Our democracy is in tatters, and the people are divided."
Calling impeachment "a faithful, patriotic way forward" and "a moral action to reclaim our national integrity," the statement urged the U.S. Senate "to do its constitutional duty and conduct a full and open hearing of all of the evidence."
The House was expected to pass the two articles of impeachment that alleged abuse of power and obstruction of Congress, after a monthslong investigation into whether Trump improperly pressured Ukraine to conduct investigations that would benefit him politically.
In a video accompanying the Network statement, Campbell said the organization had hoped to find "a way forward in a bipartisan fashion," but that the testimony during the House hearings and "the White House admission that the president had broken the law" compelled them "to stand up and speak out."
"The time is now to say this president cannot break the law for his own political self-interest and get away with it," Campbell said in the video.
She noted that the issue was not only a legal one, but a moral one.
"The moral issue of this time is clear, that we must live in the truth, speak the truth, protect the truth and speak up as people of faith," Campbell said. "It is unacceptable that lies and confusion are what is being used to protect a president. This is not faithful. It's not patriotic."
Network was founded by a coalition of Catholic sisters in 1971, in the wake of the Second Vatican Council. Its mission is to organize and lobby for economic and social transformation. Its Nuns on the Bus cross-country campaigns have brought attention to its work for justice and peace.
Like what you're reading? Sign up for GSR e-newsletters!